Ancient Wheat Varieties Making A Comeback
Modern researchers and enterprising growers in Europe and the U.S. are bringing back a wheat species that can be traced back 10,500 years. Einkorn offers a unique niche market opportunity for small farm owners.
"It's very sustainable, requires few inputs and fits well into our rotations. Consumers see real health benefits, and it has extraordinary flavor," says Elizabeth Dyck, researcher with Organic Growers' Research and Information-Sharing Network (OGRIN) based in Bainbridge, N.Y.
She has been working with growers in New York and Pennsylvania and coordinating with Midwest researchers on heritage wheat (spelt and emmer) since 2008. She started working with einkorn in 2011.
"Keeping some of these tough varieties viable is really a good idea," she says. "For example, modern wheat out yields emmer wheat in good growing conditions, but in a drought, emmer will still produce."
You can plant seed in poor soil with fewer fertilizer inputs and less worry about diseases. But processing the kernels is challenging since the hulls don't come off the kernels when combined. They must go through special dehulling equipment.
That has been the biggest disadvantage of growing the ancient wheat species, says Steve Zwinger, agronomist and research specialist at North Dakota State University's Carrington Research Extension Center. European growers have developed equipment for small-scale operations, but it's very expensive.
Emmer wheat has been grown in North Dakota for livestock feed (because the hulls don't need to be removed) as far back as 1900, when Russian and German farmers brought seed to the U.S.
"Einkorn bread has a wonderful flavor," Dyck says. Plus, it's high in protein, lutein and carotenoids, which are known to reduce blood pressure and aging diseases.
She and Zwinger agree that consumers need to be cautious about claims about nutritional attributes. One potentially dangerous claim is that people with celiac disease can eat it. There is gluten in einkorn, and it hasn't been proven to be safe for people with the disease, they emphasize.
Artisan bread makers, chefs and promoters of local foods are enthusiastic about the old grains. While einkorn makes great breads and crackers, emmer is more suitable for pasta. Dyck adds that the grains can also be cooked whole and eaten like rice.
In working with organic growers, Dyck and Zwinger are researching seed lines, plant populations, planting dates, fertility needs, ways to reduce lodging and other issues. Zwinger points out that one advantage of the tougher hull is that it protects seeds to make them last longer for germination.
Emmer wheat seed can be found for about 50 cents/lb. Although the price looks good and interest among buyers and processors is increasing, Zwinger cautions farmers to have an outlet before growing the crop. There's less einkorn seed, so it's only sold in small amounts and is expensive – $4/lb. on one website, for example.
"There's a huge market, but there's a definite need for education, promotion and product development," Zwinger says.
The researchers invite people interested in learning more about growing or using einkorn or the other ancient wheats to contact them.
Contact: FARM SHOW Followup, Elizabeth Dyck, Organic Growers' Research and Information-Sharing Network, 1124 Co. Rd. 38, Bainbridge, N.Y. 13733 (ph 607 895-6913; www.ogrin.org) or Steve Zwinger, Carrington Research Extension Center, P.O. Box 219, Carrington, N. Dak. 58421 (ph 701 652-2951; www.ag.ndsu.edu/CarringtonREC).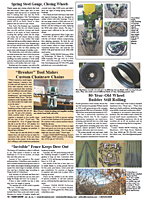 Click here to download page story appeared in.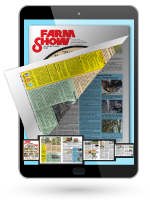 Click here to read entire issue
To read the rest of this story, download this issue below or click
here
to register with your account number.