Great Way To Free Seized Engines
Over the past†2 years I have added to my collection of vintage cars and tractors.† I purchased a 1948 Ford 2N tractor†at an auction that had not run for at least 6 years.† I bought a 1932 Chev 2-door that hadnít run since the mid-70ís.†Both previous owners said the engines were running when parked and that they had put oil in the cylinders.† Both engines were seized tight.†I worked for 2 years on the tractor and†one year on the car, using the best penetrating oils available, turning cranks every time I walked by, trying to turn the flywheels backward, rocking vehicles in gear and jumping on bumpers.† Nothing worked.
Then I heard a rumor about magic stuff that was guaranteed to work.†I located your website www.Seized-Engine.com and found a testimonial from a friend who had successfully used your product.†I ordered enough to treat the 2 engines.† As luck would have it, the Chev. broke free the day before the Engine Release arrived and didnít require†the treatment†(would have been nice to have it freed a year ago!).
I started treating the tractor as per your instructions, 1 oz. per day per cylinder for 3 days, then wait for a week.† I donít have that much patience.† I tried to turn the flywheel backwards on day 4.† No luck.†Day 5, it moved.† In half an hour, slowly working the flywheel and the crank alternately, it is free!
I will be keeping the other 3 cans of Engine Release for future use or to share with friends.
Thanks for your product.
Kits are available online only for $19.95 each plus $6.95 S&H per kit. Delivery takes 10 to14 working days.
Visit the companyís website at:
www.enginerelease.com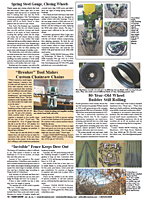 Click here to download page story appeared in.
To read the rest of this story, download this issue below or click
here
to register with your account number.