Pellet Business Turns Weeds Into Cash
You can turn weedy hayfields into cash with pellet-making equipment. Rob and May Miller, son Mike and his wife Marylou are doing just that in upstate N.Y. The former dairy farmers are direct marketing pellets of weeds, grass and hay for fuel, mulch and soil additives, as well as for cat litter and pet bedding. When not pelleting waste forage, they also pelletize barley straw to clean up farm ponds, wood for fuel and kiln-dried pine for horse bedding.
    "We started out making our Enviro Energy pellets from poor quality hay and weeds for use in pellet stoves," says Mike Miller. "We've expanded markets for the pellets as we find new products to market."
    Raw material comes from area fields that are no longer actively farmed, or hay spoiled by rain. Old hay and crop fields grow up with weeds and grass. Left too long, they fill in with brush and trees.
    "If the land isn't harvested at least once a year, it quickly turns worthless agriculturally," says Miller. "It grows up to goldenrod and other weeds that work well for our pellets."
    Btu-wise, the pellets are similar to wood pellets, with 17 lbs. of pellets equal to about a gallon of fuel oil. However, some older pellet stoves can't handle the higher ash content. Newer stoves are better designed to handle the ash. As a result it has taken longer than expected to build a market for the grass fuel pellets.
    Meanwhile, the Millers developed a secondary market for the grass pellets as mulch and soil additives. A single layer of pellets on the ground expands 5 to 6 times as they absorb water, producing several inches of weed-stopping mulch. The pelleting process destroys any seeds, so the mulch itself is weed seed-free.
    The following season, the mulch can be dug into the soil where it loosens up hard clay and retains water in sandy soils. The pellets also add nutrients.
    "We market the pellets as a mulch and soil amendment, not as a fertilizer, though we've had some tested and found them surprisingly high in nitrogen," explains Miller. "We aren't licensed to sell the garden pellets as fertilizer. However, we do advise our customers to have a soil test taken before and after several years of using the pellets."
    The pellets, which sell for $4.50 per 40-lb. bag, can also be added directly to soil in gardens, in the field or even in pots for houseplants. "They practically explode in the ground as they absorb moisture," says Miller.
    The Millers have developed a special low heat pelleting process to make soft grass pellets for the cat litter and pet bedding market. They also make pellet barley straw. Using barley straw to control algae growth in ponds is a well-established practice. Barley straw pellets are easier to handle and more effective than straw. Using their equipment, the Millers were able to make and sell the barley straw pellets for $40 for a 40-lb. bag. Miller says that is significantly less than the $2 to $5 per pound commercial brands ask for theirs.
    "It added another market for us and gave some area barley growers another market also," he says.
    One thing that sets the Miller's Enviro Energy pellets apart from the competition is lack of binding ingredients. Most pelleting companies use plastic or other products to bind the pellets. The Millers prefer to sell all natural products.
    "Anything you put in the pellets adds to the cost," says Miller. "We had to do a lot of experimenting with pressure, speed and flow, but we learned to make a good grass pellet with no additives."
    The Millers use an electric-powered, 2 ton per hour Sprout Waldren pelletizer. Different materials require different pelleting dies, which the Millers have custom made. Changing products requires little more than switching a die.
    Combined with augers, a tub grinder and hammermill, baggers and other equipment, the Millers have invested about $600,000 in their pelleting system. "We haven't paid for it all, but we are ahead of the bank on payback," says Miller.
    In addition to selling fuel, garden and horse bedding pellets, the Millers work with Cornell University and other research institutions and alternative energy groups. Miller also consults with individuals interested in doing their own pellets.
    "Currently I am consulting with the University of Maine and a guy from Vermont who wants to pelletize switchgrass and Reed canarygrass," says Miller. "I'm available to work with others who want to set up a business like ours."
    Contact: FARM SHOW Followup, Enviro Energy, LLC, 2265 State Highway 7, Unadilla, N.Y. 13849 (ph 607 988-9013; www.enviroenergyny.com).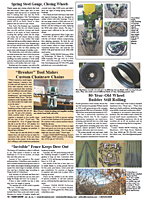 Click here to download page story appeared in.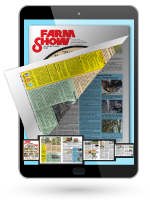 Click here to read entire issue
To read the rest of this story, download this issue below or click
here
to register with your account number.