Jet-Powered Cadet Is No Ordinary Cub
The noise!
    R. Bruce McDannald says that's the coolest thing about his "jet"-powered Cub Cadet. He originally bought the 125 Cub Cadet in 1966 to mow his lawn.
    When Popular Science magazine heard about his Jet Cadet they made it the Do-It-Yourself Project of the Month for September 2010.
    It's definitely an attention-getter when McDannald takes it to parades and local events. The crowd hears - and sees - him coming. The 1,200-degree blast out of the 5-in. exhaust system shakes tree limbs 16 ft. overhead.
    Inside McDannald's 72-year-old body is the spirit of the 12-year-old who built a go-cart out of combine parts on his Ohio farm. Later, he made his own mini bike.
    Three years ago, the urge to make something different stirred again when he heard a jet engine at the Antique Gas & Steam Engine Museum in Vista, Calif.
    "Seeing the display gave me the idea that this same engine could possibly be transplanted into the Cub," McDannald recalls. "I had no idea of all the challenges it would take to make the transplant."
    The Escondido, Calif., pump system company owner has restored many tractors over the years, including a Wheel Horse D-200. But modifying a Cub with a jet engine is his most unusual project to date.
    He bought a military generator for $4,000 for its 60 hp jet turbine engine. Making it fit was tricky. To make room he added a 3-in. spacer to extend the frame and bought another hood to graft onto the original. The engine requires a 24-volt DC battery to run the starter, and the one that came with the generator was so large that McDannald had to lengthen the hitch and build a battery box.
    The turbine engine turns at 52,000 rpm's, so McDannald shortened parts and added a serpentine belt to reduce the speed to 3,600 rpm's for the hydrostat shaft.
    "Now I have 60 hp instead of 12," McDannald says.
    Within a couple of years he had most everything done, including a first-rate paint job, but McDannald couldn't run it.
    "I didn't dare run the engine in public with the exhaust coming straight out at 1,200 degrees Fahrenheit," he explains. "It took a year to find someone with the parts and knowhow to fabricate the 5-in. exhaust system. At last I found Detroit Flex, which made the 90 degree elbow and mating flange with the V clamp."
    That sent the heat straight up.
    The engine uses jet fuel and burns 8 gal. per hour. With just a 2-gal. tank that means McDannald's Cadet has to be towed to the parade line, so he has enough fuel for a 15-minute ride.
    It's worth it, he says.
    "I get an adrenalin rush every time the engine spools up to 100 percent," he says.
    Contact: FARM SHOW Followup, R. Bruce McDannald, 2851 S. Center City Parkway, Escondido, Calif. 92025 (ph 760 741-5555).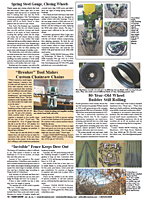 Click here to download page story appeared in.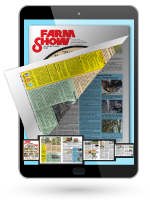 Click here to read entire issue