Monkey Business In The Hog House
Some people seem to just monkey around in the hog business. But Fabian Cobb of Amazonia, Mo., has had a real monkey in his hog house for about eight years.
That's right. There's a female rhesus monkey that eats, sleeps and plays with Cobb's hogs - even hops on for an occasional "bareback ride" which some of the pigs don't appreciate.
Some 13 or 14 years ago, a wild monkey showed up in Amazonia and made a nuisance of herself for several years by frequently opening gates to release chickens, rabbits and other animals. She then moved in with the pigs on a nearby farm and lived there about four years - until the owner sold all his hogs but one sow. Later, the sow escaped and headed for Cobb's, with the monkey on her back. Mrs. Cobb called the owner who came after the sow, but left the monkey.
The Cobbs gave her a name, Monkey Doodle, and she has lived there with the pigs since then. "She eats what the pigs eat," says Cobb, "and especially in cold weather, she'll climb right on top of them and go to sleep." Do the pigs mind? "They don't have much choice," says Cobb, "If one of them moves, she wakes up real quick and just hops back on top again."
They've had no real problems with Monkey Doodle, but Cobb says that sometimes when a sow is farrowing the monkey may make her nervous and cause the sow to get up and down too often. But, in spite of repeated efforts, Monkey Doodle is still quite wild and "uncatchable."
"She's bigger. than a big coon," says Cobb, who estimates Monkey Doodle's weight at 30-40 lbs. "She readily climbs trees, fences and buildings and never seems to fall.
"If we offer her a banana, she'll ignore it until we move well away. Then, she'll eat it with great joy." The Cobbs suspect that Monkey Doodle may have been mistreated by humans when she was young, or that she simply grew up wild before she appeared in Amazonia.
Says Mrs. Cobbs: "She's had a lot of publicity. A number of magazines and newspapers have sent writers and photographers to verify the fact that a wild monkey really lives with hogs on the Cobb farm in Northwest Missouri. We have a scrapbook full of pictures and stories on her."
Monkey Doodle really hit the "big time" when Farmland Industries, of Kansas City, featured her in an American Trails television show. Since then, she has been featured in TV newscasts across the country, and someone told the Cobbs that they even saw her on TV in Japan.
Monkey Doodle is quite protective of her four-legged friends and will even hop into the middle of a hog fight to pound on their snouts to break things up. But, when the TV crew showed up, Monkey Doodle ran for the woods and refused to come out until Cobb started ringing one of the hogs. The squeals brought Monkey Doodle on the run, and she hit Cobb on the head before he could get his guard up. Monkey Doodle doesn't get outside very much in real cold weather, and never gets very far from the pigs, which have long since grown accustomed to her monkey business!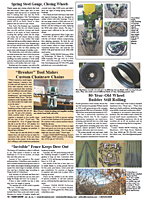 Click here to download page story appeared in.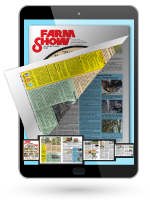 Click here to read entire issue
To read the rest of this story, download this issue below or click
here
to register with your account number.