How To Turn Manure Into Charcoal
You can make charcoal out of horse, cattle or donkey manure in a modified 55-gal. drum, says Jeff Hoard, Austin, Nevada.
††††"In less than an hour you can convert a 55-gal. barrel into a charcoal kiln with just a hammer and a cold chisel," says Hoard. "The manure charcoal looks and burns just like ordinary charcoal. I burn it in our wood stove for home heat."
††††Here's how he does it.
††††"First, I chisel off the barrel's lid and straighten it out. Then I pull out the 1/8-in. lip, which allows the lid to be put back later on without falling into the barrel. I turn the barrel over and chisel about 20 sq. in. worth of vent holes into the bottom.
††††"I like to use donkey manure because it's briquette size, but horse and cattle manure or chunks of wood work fine, too. The first step is to put chunks of manure on a tarp to dry.
††††"Once the manure is dry enough to burn, I dig a hole about 4 in. deep and a little bigger in diameter than the barrel. Then I put 3 or 4 bricks inside the hole and place the barrel Ż open end up Ż on top of the bricks. I put some paper and kindling into the barrel, along with a few buckets of manure, and light it. Then I slowly add manure until the barrel is completely full.
††††"As I fill the drum with manure the fire will fluctuate from a flame to a smolder, but eventually it returns to a flame. Once the fire is burning hot enough that it won't go out, I cover the bottom of the barrel with loose dirt to restrict air flow, leaving a 3 or 4-in. gap. Then I put the barrel lid on cockeyed so smoke can exit.
††††"As the moisture burns off, a thick white smoke will come out of the barrel. After the smoke dies down some, I use a 2 by 4 to smack the barrel a couple of times to settle the contents. The white smoke will come back for a little while but I watch it carefully. When the smoke turns to a transparent blue, it's time to seal the barrel and let it cook.
††††"First, I cover the bottom of the barrel on the outside all the way with dirt. Then I put the lid all the way on and cover it with dirt so the barrel is completely airtight. After 24 hours, I dump the barrel and screen the chunks from the ash."
††††Contact: FARM SHOW Followup, Jeff Hoard, HM Ranch, HC 61, P.O. Box 6108, Austin, Nevada 89310 (HMfgRanch@gmail.com).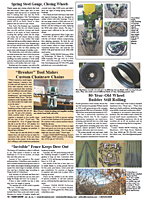 Click here to download page story appeared in.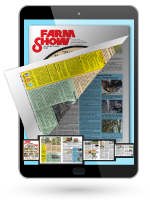 Click here to read entire issue
To read the rest of this story, download this issue below or click
here
to register with your account number.