Add-On Laser Guide For Power Saws
"Our add-on Laser US-guide turns on automatically when the blade starts to rotate. It shows a laser line where where the blade cuts. It also high-lights any body parts that may be exposed. And it eliminates off-mark cuts and saves you money on the cost of wood. The beam shuts off as soon as the blade slows down. New store saws have to be turned on and it's easy to forget to switch them off, wearing out the batteries. Laser US customers marvel at the life of the batteries. We include 2 sets with each Laser US guide," says Bob Kelly, whose son, Robert, invented and patented the new guide.
When the company Robert worked for moved overseas, he formed Laser US Inc with co-worker and engineer, Paul Bonsi. They focused on developing a line of laser guides for chop, miter, abrasive, radial and hand power saws. They started marketing these guides only to discover a foreign tool company had stolen the patent and was selling his design to saw manufacturers. Says Kelly, "They even had my patent number on their counterfeit units." Kelly sued and after 5 years won the case, but the lawyers got the cash. Starting from scratch, Kelly and Bonsi began manufacturing and marketing for the aftermarket.
But within a year Robert became disabled by a brain aneurysm. His father, Bob Kelly, moved from Los Angeles to Grants Pass, Ore., and joined with Paul to handle Robert's affairs along with the marketing of the Laser US Guides.
Bob says, "While the guides fit 97% of all saws, we guarantee 100% satisfaction. No fit/don't like, return it and get all your cash back. We are very proud of our product. It's great to hear from people who have bought one," says Bob. "One fellow said it was better than toilet paper." Many buy second and third guides to give as gifts. "Installing it is easy. Just replace the existing washer with the guide."
Models #12200M and 12200C fit saws that use a bolt or screw to hold the washer/blade (most miter, chop and circular hand saws). These guides are priced at $24.95. Models #15500R & 15500W are designed for saws that use a nut to hold the washer/blade (radial arm and worm-drive saws). These guides are $28.95. Model 18800 fit saws with 117 mm and 1-in. arbor/shafts. This is the largest unit and sells for $39.95. All come packaged with 6 batteries, extra bolts (usually not needed) and complete instructions. Laser US guarantees the batteries for 90 days, the beam for 180 days & the case for 5 years. See a video, FAQ and photos of the guides at the company's website: www.laserusinc.com. Or contact: email: bob@laserusinc.com or phone anytime toll-free: 888-767-1262.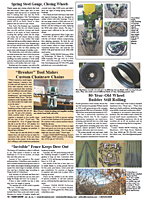 Click here to download page story appeared in.
To read the rest of this story, download this issue below or click
here
to register with your account number.