Magneto Rebuilder Trades For Cores
If you need a magneto rebuilt, you could get it done free if you have enough extra magneto cores to trade. Rudy Calin has worked on practically every type of magneto from big horseshoe antiques to Fairbanks Morse and Waco units. He has rebuilt magnetos for old cars, trucks, tractors and even small, single cylinder gas engines with external magnetos. He always needs old cores.
"I've been rebuilding magnetos for 20 years," says Calin. "I can test, diagnose, fix or completely rebuild most any magneto. I have most parts on hand, and in rare cases where the parts are not available, I may be able to repair the damaged parts."
Calin got interested in magnetos while rebuilding his first tractor. He rebuilt the head, carburetor, magneto and other components. Before long he had accumulated and restored more than 20 tractors, most with Waco magnetos. When he hit a Minneapolis Moline with a Fairbanks Morse magneto, he needed help. He met and was mentored by the late Neil Yerigan, author of How to Restore Tractor Magnetos, a classic on the subject.
"He was working on the book when I met him, as he was afraid all his knowledge would be lost when he died," says Calin. "I still refer to it when I have questions. He knew most of the quirks about different magnetos."
He charges $45 for a basic rebuild. A complete tear down costs an added $20 with parts and paint extra. He only replaces undamaged parts if a customer wants all new condenser points and rotor.
Calin says his stock of parts and equipment sets him apart from other magneto repair services.
"I have a magneto test bench that can spin the magneto at various speeds to see the sparks on a spark rack," says Calin. "I also have a magnet charger so I can recharge the magnets in a magneto, as well as a core rewinder."
In addition to magnetos, Calin also works on carburetors. He sandblasts and repaints them, replacing any damaged parts.
"I've worked on all makes and models," he says. "The most unique one ever was a TD16 International diesel crawler. It has a unique motor with a carburetor that starts it on gas and then switches the engine to diesel once it warms up.
Calin charges $95 plus parts to repair full size carburetors and $75 for smaller ones.
Contact: Rudy Calin, 8431 Scandia Trail N., Forest Lake, Minn. 55025 (ph 651 464-6655; cell 651 233-6655; Rudy@rebuilt mags.com; www.rebuiltmags.com).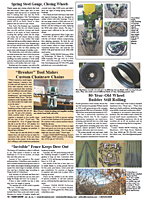 Click here to download page story appeared in.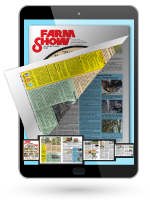 Click here to read entire issue
To read the rest of this story, download this issue below or click
here
to register with your account number.