Easy Fill Soybean Planter
After planting soybeans for 15 years, Russell Borland knew what he wanted in a planter. It had to offer flexible row spacing, hold enough seed to go four times the distance between fills, and be completely adjustable to handle planting in conventional, minimum-till and no-till fields.
So he spent four months in the shop and, using about $1,500 worth of materials, came up with a built-from-scratch dream planter which he might not trade you for a new one costing $15,000 to $20,000. Key features of the 10-row planter include the large 25-bushel seed hopper which resembles a grain box on a drill, plus a fully-adjustable toolbar, and a "convertible" bridge hitch which can be easily switched back to a conventional position.
Borland who farms 750 acres near Richwood, Ohio, says the main frame of
the planter consists of four toolbars that let him stagger planter units to accomodate narrow rows and transport wheels. He used No. 52 Allis-Chalmers planter units from an older mounted toolbar planter he owned. He made about a dozen modifications to the units to improve both depth control and the chain drive system. He also moved the packer wheels forward from their original position to get them closer to the disk openers.
He assembled the seed hopper from scratch. To allow him to fill from one side of the hopper, he installed a hydraulic-powered auger to move the seed from one side to the other. He supported the auger with bearing blocks mounted across the width of the box. A control valve on the box lets him adjust speed as needed and shut off the auger when the box is full.
To fill the grain box he uses a gravity wagon with an auger made of brush bristles instead of steel. The auger moves seed slower than a steel auger, but doesn't crack the soybean seed. Once in the main seed hopper, seed drops automatically by gravity through tubes into the planter boxes, keeping them better than three-fourths full. Keeping the boxes continually filled provides the extra advantage of having constant weight pressing down on the planter units to help maintain depth control.
"I haven't had any problems," Borland says, noting that he built the planter six years ago. "The only thing I might do different is use newer style planter units. But I definitely like the idea of filling and planting 20 acres or more before have to stop to refill. It saves me a lot of time when I get in the field. With my old planter I could only plant about 5 acres before stop-ping, so I've stretched the time between fills by a factor of four."
Another advantage, he says, is that he no longer bangs up his legs when filling individual planter boxes. "With the big hopper you just stand in one spot and watch it fill. I can fill this planter just as fast, with all the extra bushels, as it took me to fill my old planter. Besides the 25 bushels held by the seed hopper, each planter box holds about another bushel, so the total holding capacity is 35 bushels."
The 10-row planter covers a width of 180 in. Row spacings can be adjusted down to a minimum of 13 in. (in which case 11 rows would be used). Borland, however, normally uses 16-in. rows with two 24-in. skips. The 24-in. skips provide space for 18-in. tractor tires when rotary hoeing or spraying. "It makes it nice because when I come out at the end of the field I can tell right where I should be driving," he says.
The planter is fully adjustable, including the hitch, planter units and transport axles. Brackets that support the seed hopper are part of the lift mechanisms so when they are adjusted the brackets simply move to different spots on the hopper.
After using his shop-built planter for two seasons, Borland modified the hitch so he can easily convert it from a conventional hitch to a bridge hitch. The same tongue is for both set-ups; the uprights are easily removed or added to switch from one to the other.
Borland's rig has proven itself with "erector-set" flexibility, especially with the bridge hitch that allows space for tillage tools between tractor and planter:
• For conventional planting, he uses a danish tine field cultivator mounted on the 3 Pt. hitch with a Lely Roterra rolling basket on back and the planter trailing behind.
• For minimum-till fields, he simply hooks a Lily Roterra, powered by the tractor;s pto to the three-point hitch.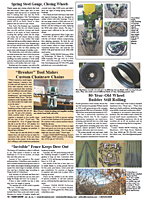 Click here to download page story appeared in.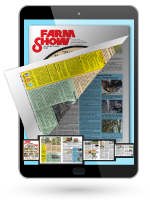 Click here to read entire issue
To read the rest of this story, download this issue below or click
here
to register with your account number.