PTO Power Unit from Forage Chopper
One of the most ambitious farm shop projects we've seen lately is "The Ajax 500," a self-propelled power unit designed and developed by brothers Howard and Roger Schnell, Franklin Grove, Ill. They use it to pump manure from the 10 ft. deep pits in their confinement beef barn, and to blow silage into four large upright silos, including a tall 25 by 90 Harvestore that's loaded and unloaded year-around.
The powerful, well-engineered work-horse cost less than $8,000 to build (not including the Schnell's labor) and does the work of a tractor that, even if bought used, would cost upwards of $20,000. What's more, it's loaded with exclusive hydraulics and other features not found on high horse-power conventional tractors.
Starting with a used 1965 Fox model SP-F self-propelled forage harvester, the Schnell Brothers stripped it to its strong (4 in. dia.) tubular frame, leaving intact the Rockwell trans-axle in the front, the steering axle in the rear, and the operator's platform.
Power is provided by an 855 cu. in. 250 hp (flywheel) Cummins diesel that was salvaged from a used White 400 semi tractor along with the semi's 10 speed Road Ranger (910 series) transmission coupled to an 8000 series splicer auxilliary transmission.
The splicer auxilliary transmission was altered by placing an "ag spline" stub into the lower countershaft. A new lower cover-plate and double oil seal were made to hold the "ag spline". In the 8000 series splicer, the input and lower countershaft gears are 2 in. wide helical with 41 and 39 teeth. There-fore, the engine rotation was reversed at near equal speeds.
"This was the key to making the power unit work. The drive shaft of the former semi has to counter rotate to pto-drive farm equipment," explains Howard.
By shifting to any one of 10 Road Ranger gears, rotating speeds of the pto can be adjusted independent of engine speed. Transmission gears ratios are approximately 23% apart, giving a wide choice of speeds.
When pumping manure, for example, the Schnells start the job using a 24 in. dia. agitating propeller on the pump. The 7th gear is used with the motor running at 1,800 rpm, providing a pto speed of 100 rpm and approximately 175 hp. When the pit is about 3 ft. from empty, the propeller is removed (because of splatter) and a higher gear is used with less motor rpm's and only about 75 hp is delivered. "We wouldn't have this wide a range of fuel-saving power options with a conventional tractor," Roger points out. Rpm speed of the engine is monitored by a waterproof Sangauro tachograph salvaged from the semi. A Motorola electronic rpm shaft monitor keeps tab of the pto speed.
For pumping manure, the Schnells re-vamped a Clark forklift which is hydraulically tilted and raised to lift their heavy duty "Super Prop" Pearson Bros. Better-Bilt pump in and out of the pit. Wide visibility and the short wheel base make it easier to place the pump into the pit from the Ajax unit than from a 3 pt. hitch tractor, the Schnells point out.
For locomotion, a Dynapower hydrostatic pump is mounted to the rear of the power unit and is powered live from the Cummins crankshaft. A matching hydrostatic motor is belted to the old Fox fmal belt drive, giving infmitely variable forward and re-verse speeds in each of the 3 Fox speed ranges. A two-stage Webster hydraulic pump supplies 10 gpm to a 5-spool bank valve for hydraulic functions (including orbit motor power for forage box unloading) and 100 gpm to the old Fox hydraulic system which includes Charlynn hydraulic steering.
The Schnells use their home-built Ajax power unit aproximately 250 hrs. per year for manure pumping and silage blowing. "It saves the use of a high horsepower tractor, offers flexible pto speeds acccording to the amount of horsepower required and has performed beyond our expectations," notes Roger.
For more information, contact: Schnell Brothers, 1243 Rock Road, Franklin Grove, Ill. 61031 (ph 815 857-35$4, or 3609).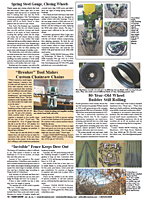 Click here to download page story appeared in.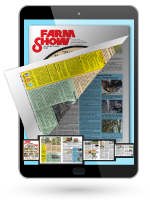 Click here to read entire issue
To read the rest of this story, download this issue below or click
here
to register with your account number.