"Owner's Report" On Do-It-Yourself Pellet Machines
With soaring corn prices, there's tremendous interest in pellets made out of wood, corn stalks, grass or other low-cost products - primarily to burn in corn stoves. Pellet Pro, owned by Illinois farmers, imports a farm-sized pelletizer from China (ph 309 852-3625; www.pelletpros.com). We featured Pellet Pro's machine in a story last year (Vol. 31, No. 3). Recently, we contacted a few "early adopters" to see how it's working out.
Steve Law, Mantorville, Minn.: "I bought the smaller Pellet Pro machine with a 7 hp electric motor. The machine is fine for what it is - a low-cost unit. Most pellet-making machines are big commercial units that cost $500,000 or more. I paid just $2,800 and so far I've made pellets from alfalfa with corn distilling byproducts added and also from chopped soybean residue and distillers grain. It all depends on the ratio of water or oil to dried materials. If you get it just right, it'll make decent pellets.
    "I've had trouble making pellets hard enough to feed through the two augers on my corn stove. They break up before they get to the firebox. However, I made some pellets for a friend who has a newer stove that gravity feeds from the top and he says they work great.
    "The dies on the Pellet Pro are poorly designed so I made my own, which works a little better. I feed sheep and have been making pretty decent alfalfa pellets for them with 10 to 15 percent distiller's grain added for protein ű and to make the pellets a little harder. For burning, I use soybean stalks mixed with distiller's grain.
    "Anything you pelletize has to fit through a 1/4-in. screen.
    "I'd recommend going to a bigger machine with a 15 hp diesel engine. It's rated at 650 lbs. per hour, has bigger rollers, and is not so temperamental to moisture content."
    Merlin Wooley, Beaverton, Mich.: "My unit is for sale. I just can't get it to work. The company sent me a bigger die which helped some but I can't make burnable pellets out of wood byproducts, which is what I bought it for. The pellets just fall apart, even though the company told me it should work fine. I paid $3,500 for it.
    "It might work better with distiller byproducts, which are more like putty. I wanted to use shavings from a wood flooring mill, which are coarser than sawdust.
    "When I contacted the company, they gave me a recipe they said is guaranteed to work: 12 cups sawdust, 6 cups soybeans, and 1/2 cup water. But I don't want to have to go out and buy soybeans, especially at today's prices.
    "After I got the machine to my shop, it leaked oil. A coupling between the motor and power shaft was out of line. I had to redrill holes and grind down the welds.
    "I bought the machine because 40-lb. bags of wood pellets are selling for $4.75 right now and I thought I could get something going. I'm disappointed. If you're interested in a machine, I recommend you take the material you want to pelletize to Pellet Pro first and try it out."
    Joe Duffy, Hornell, N.Y.: "Last year FARM SHOW published a report on my Pellet Pro machine and I had responses from individuals and manufacturers across the country who had ideas for making it work. But I finally gave up and took it back to the company. They gave me my money back.
    "I found that it works good on softer food materials like soybeans and distiller's grain but not so good on wood products. I have a sawmill and wanted to use my own sawdust. The company suggested I mix it with distillery byproducts but we don't have an ethanol plant anywhere near here. And besides, the byproducts cost $125 a ton.
    "I don't give up easily and tried different moisture contents. Nothing worked."
    Ted Walrich, Colton, N.Y. (ph 315 265-2127 or walrichp@northnet.org): "It's the only do-it-yourself pellet-making machine out there and I have nothing bad to say about it. But then, I am a dealer. However, I didn't become one until after I bought a machine and found out how well it works. To make good quality pellets, you just have to find the best method.
    "It doesn't make any difference what the material is but there are certain procedures to follow for different kinds of materials. The company doesn't provide the best set of instructions but they haven't been in business that long and are still figuring everything out themselves.
"There are two basic kinds of materials to make pellets from: Dry products like grasses, cornstalks or sawdust; and wet products like distiller's grains, green sawdust, and other products with 16 to 40 percent moisture content.
"With dry material, you have to add a binding agent to make a good pellet. The good thing about working with dry material is that it's ready to burn when the pellets come out.
"With wet material, you often don't need a binder but when they come out, they're too wet to burn. So you have to go through a drying process to bring them down to 12 to 13 percent moisture to burn successfully in a stove.
"We're all new at this so there's a lot of experimenting going on. It's almost more of an art form than a science. For example, there's a big difference between sawdust from hardwoods and sawdust from soft woods, and it makes a difference if you're using a circular sawmill or a bandsaw mill, which has much finer sawdust.
"It would be nice if there were a detailed pellet maker's manual but there isn't. I may scare some customers off by telling them the facts, but I'd rather do that up front than have them buy a machine and not be happy.
"It's important to chop material up so it fits through a 1/4-in. screen. You can't just take hay off a big bale and pelletize it. I kiln-dry my own lumber and use shavings from our planers and joiners and I have to run them through a hammermill so there are no chunks or long silvers to plug up.
"There are three different electric-powered models, a diesel-powered model, and a pto-powered model. Capacity ranges from 65 to 650 lbs. per hour.
"There's tremendous interest in pelletizing right now. It's been a learning process for the whole company."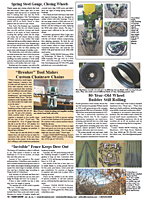 Click here to download page story appeared in.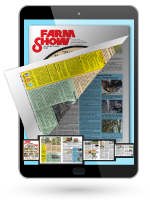 Click here to read entire issue
To read the rest of this story, download this issue below or click
here
to register with your account number.