He Repowers Tractors With Ford Flathead Car Engines
"They draw a lot of attention at shows and parades," says Richard Lyman, Mount Gilead, Ohio, about the Silver King and Oliver tractors he repowered with Ford flathead V-8 car engines made from 1932 to 1953.
    The Silver King tractor was originally equipped with a Continental 4-cyl. 30 hp gas engine that was worn out. Lyman replaced it with a flathead 85 hp car engine that he painted blue. To make room for the new engine he cut the tractor frame and welded in some new material, lengthening the tractor by 10 in. The tractor came with 28-in. high rear wheels which "looked odd" after the tractor was stretched out, so he replaced them with 36-in. wheels. He also added a pair of homemade straight pipes, one on each side of the hood, that give the tractor a distinctive, rumbling sound.
    "It really looks nice. The tractor's main body is painted silver but I painted the motor blue and the wheel rims red," says Lyman. "It has a streamlined look. In fact, some people tell me it looks factory-built. You don't even notice the tractor is too long unless a standard Silver King is parked alongside it.
    "I made the conversion because I've always liked Henry Ford flathead engines and wanted to see if they would work in tractors. The Ford flathead has low compression and makes a sound that's all by itself. Henry Ford engines are hard to come by - I got mine at a public sale and paid $200 for it.
    "Everyone wants to know how fast it will go. I tell them that at my age speed isn't a factor, but I expect it would probably go 50 to 60 mph. However, I only drive the tractor in second gear."
    Silver King tractors were made from 1934 to 1954. "Most Silver King tractors were made in Plymouth, Ohio, and came with an engine that was part of the tractor's frame. However, my Silver King was built in West Virginia. It had an engine that was separate from the tractor's frame, which made it much easier to repower it. Only 78 Silver Kings were ever built in West Virginia, and I don't know how many are still around."
    Lyman had to make an adapter plate to connect the clutch on the Ford engine to the tractor's original bell housing. "The flathead engine had two inlets and two outlets leading to the radiator, whereas the Silver King's radiator had only one inlet and outlet, so I had to make two more inlets and outlets."
    The Oliver tractor was originally equipped with a 4-cyl., 18 hp engine which Lyman replaced with a Ford flathead 60 hp, V-8 engine. He didn't have to lengthen the tractor, but he did have to downsize the gas tank, making it 2 in. narrower and 3 in. shorter, in order to make room for it. He also made a pair of straight pipes.
    The tractor was originally started by cranking a lever. Lyman got tired of doing that, so he mounted a flywheel and pto shaft on back of the tractor as well as a starter. The system allows him to start the tractor from the rear instead of the front. "To start the tractor I put the gearshift in neutral, engage the pto, and press the starter button. Then once the pto starts whirling, I let off on the clutch and shut off the pto, which disengages the starter so that it doesn't have to run all the time," says Lyman.
    The new engine resulted in a gear reduction so the pto shaft wouldn't turn over fast enough. To solve the problem he switched the tractor from 6-volt to 12-volt.
    Contact: FARM SHOW Followup, Richard Lyman 4325 Co. Rd. 20, Mount Gilead, Ohio 43338 (ph 419 946-6932).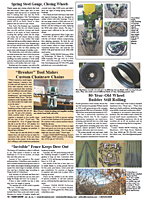 Click here to download page story appeared in.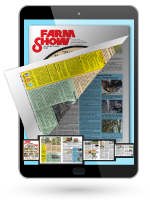 Click here to read entire issue
To read the rest of this story, download this issue below or click
here
to register with your account number.