Old Silo Converted From Farm To Family
It once held grain through the long, cold winter months. Now a young family man hopes it can do the same for his family.
Without freezing that is.
It rises above five wooded acres in eastern Minnesota's Becker County and has been coined the "Ponsford Highrise" by inquisitive neighbors.
The Ponsford Highrise is not a multi-million dollar housing project. This highrise is made of wood and is home for the Kennelly family, but it used to be an honest to goodness silo.
A what!?!
That's a typical reaction of most people, owner Pat Kennelly admits. One tour of his silo home, however, impresses many skeptics.
Nestled in the trees, the home appears as a natural as the landscape surrounding it. It almost looks as though a seed was planted, took root, and grew. The Kennellys just came along and made it into a home.
Not true. This home was built with sweat, inspiration, and a grant from the Becker County Housing and Redevelopment Authority which provided almost $10,000 in labor and materials.
Pat, 32, his wife Sharon, 29, daughters LaDawn, 10, and 8-month old Claire portray modern day pioneers, carving out a simple life-style in the quiet country solitude.
Lumber from a neighbor's hog barn was used on the additions that surround the silo.
"It's better stuff than anything I could have bought," Pat said.
Previous jobs gave him the expertise to frame the windows and do numerous other carpentry and improvement projects, he explained.
In all, the project involved seven years and $15,000 to $20,000, excluding labor.
"I've never really put a dollar figure on it though," Pat said. "I just know there was an awful lot of work put into it."
Pat arrived on his five acres of Ponsford land in 1975 from Arizona. With his brother Mike, they purchased ten acres of tax forfeit land and split it.
The next task was to build a home.With little money, a log cabin would have been a logical choice, he thought.
But his neighbor across the road had an old silo that caught his eye and imagination.
Lacking a roof, it was still one-third full of silage. No matter, the idea clicked and Pat bought it for $50. The farmer even offered to move it for him.
"I fell in love with it," he remembered. "I couldn't beat a deal like that."
Little did he know how much work would be involved. For starters, before it could be moved, the silage had to be taken out.
He still had to contend with a silage layer frozen to the walls. Pat used a pick axe to gouge it free, leaving pick marks over the entire inner surface that are boldly visible today.
As if that wasn't enough, he then had to chip the cement base ring away. Simple hammer and chisel, and plenty of muscle, did the job.
"That just about did me in right there," Pat said."
Log skids were then slid under and the shell was moved to the Kennelly site.
Everybody thought it was a hair-brain idea," Pat said with a sly laugh. "Looking back I suppose it was, but at the time I didn't care."
Once in place on a two and a half foot foundation, Pat sat down to design it.
"It was great to start with a shell. There was (almost) no cash outlay," he noted.
Various jobs Pat has held provided him with the skills and money to buy materials to continue construction bit by bit. Developed in piecemeal fashion, progress was often agonizingly slow.
With outside assistance near completion, and doing most of the carpentry himself, what stands today ù seven years later ù is a modern and adorable home.
Beautifully clear finished wooden floors make up the silo's main second and third levels. An artistic log stair-case hugs the inner wall, extending to the second floor in a graceful arc.
A cozy, rustic kitchen with all the modern conveniences fills the main floor. A small dining addition adjoins the kitchen and looks over a spacious garden and front lawn.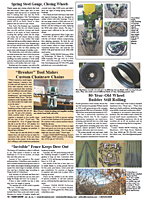 Click here to download page story appeared in.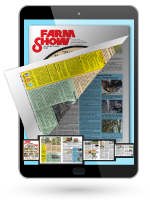 Click here to read entire issue
To read the rest of this story, download this issue below or click
here
to register with your account number.