On-Farm Incinerator Converts Manure To Electricity
Since December, 2005, Wiese Brothers Dairy near Greenleaf, Wis., has been burning the manure their cows produce and turning it into enough electricity to power about 700 homes.
At the same time, the system eliminates odor problems because of the aerobic nature of the process.
In burning the manure produced by their 1,600 cows and 1,300 heifers, farm owners Mark, Dave, Ken and Dick Wiese are able to sell the resulting electricity to a local power company.
According to Mark, it will take 8 to 10 years for the family to pay for the "biomass boiler" system that powers a turbine generator.
The "Elimanure«" system was patented by Skills Associates, a subsidiary of Kozlovsky Dairy Equipment in De Pere, Wis.
Inventor Wallace Lasonde says it improves water quality and cuts down on odor emissions and greenhouse gases.
"Our Elimanure System aerates the manure, which greatly reduces odor. There also isn't any need to store the manure in lagoons or spread it on the land," Lasonde explains. "Our system burns the manure at 2,000?F, which limits the amount of fumes that are able to escape. The steam that's created is then piped to a turbine."
The burning process is actually called "thermal gasification" ù defined as "the thermal degradation of materials by heat in the presence of a limited amount of air or oxygen, producing a combustible gas. This gas can then be used in either boilers or combustion turbine/generators."
It took four years from the time Lasonde got the idea before he had a signed agreement with his first client û the Wieses. Then, it took nine months to get their system up and running, he says.
Mark points out that the system is not yet operating at full capacity and he anticipates it will be another six months before the final phase is complete.
Due to a slow-down in equipment deliveries he's currently experiencing, Lasonde says new projects will take about one year to become operational.
Besides producing saleable electricity, the system generates excess steam that can be used to heat water or buildings.
The first stage of the system involves pumping raw manure from a liquid manure collection tank in the freestall barn, several hundred yards away, to the bioenergy facility which consists of two buildings joined by pipes and conveyors.
The bio-dryer is made up of a series of manifolds in a concrete pit covered with gravel. The pit holds about 200 tons of liquid manure.
"When you first start up, you use sawdust to mix with the 90 percent moisture manure to bring it down to 40 per cent moisture, so that the boiler can burn it," Lasonde says. "As that first batch is burning, the boiler is making high pressure steam which goes into a turbine generator, and that's where the electricity comes from. Low pressure steam also comes out of the turbine and goes into a heat exchanger where we heat ambient air. This hot air is used to dry the next batch of manure to be burned. From the second batch on, it's pure liquid manure with no additives."
After it has continued on through the thermal gasification process, only about two percent of the manure solids remain as ash. This material is a 0-8-10 compound, and can be land spread as a fertilizer. Wiese Brothers Dairy sells the electricity they produce through a confidential agreement with Wisconsin Public Service Corporation.
This system was designed to support dairy, beef, hog and poultry operations.
"We also have a system called Elimiwaste that's used to eliminate waste streams in food manufacturing plants and ethanol plants," Lasonde says. "Because ethanol has a much higher btu than manure, it works even better there, and can reduce the cost of ethanol production by 30 to 35 cents per gallon."
Contact: FARM SHOW Followup, Skill Associates, Wally Lasonde, P.E. W712 County Rd. UU, Kaukauna, Wis. 54130 (ph 920-371-0133; wrlasonde@aol.com;
www.burnmanure.com).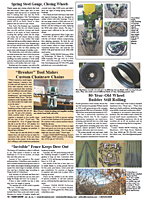 Click here to download page story appeared in.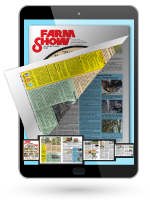 Click here to read entire issue
To read the rest of this story, download this issue below or click
here
to register with your account number.