He Grows And Processes His Own Biodiesel Fuel
If you can grow field crops, you can grow your own diesel fuel, says Dan McAmoil, Penokee, Kansas. He recently bought a Chinese-built screw press from an importer-exporter in Oregon and uses it to squeeze the oil out of 100 acres of soybeans and sunflowers. A slow speed 1,750-lb. Listeroid 2-cyl., 28 hp diesel engine belt-drives the unit. The oil produced by the screw press can be used to operate any diesel engine.
He bought the 6-ton (per day) oil seed press from Flint Hills Diesel and Biofuel (rgroves @flinthillsdiesel.com; www. flinthills diesel.com).
"I'm on single phase electricity and it would cost me about $600 per month in electricity to operate an electric motor that would operate the press all the time, which I think is too expensive. I can operate the 2-cyl. Listeroid engine on home-grown sunflower oil, which is far cheaper," says McAmoil. "The Listeroid engine uses about two gal. of sunflower oil every six hours. With good sunflowers I can get 15 to 18 gal. of oil per hour. These engines are known to last more than 50,000 hours with proper care.
"I have to grow 500 acres of 100 bu. per acre milo to net enough money to buy all the fuel I need for my farm. But it takes only 100 acres of sunflowers to grow all the fuel I need for my farm - about 11,000 gal. of oil.
"I paid a total of $6,000 for the press and engine. It doesn't take many gallons of fuel to pay that back."
According to McAmoil, growing your own biodiesel fuel is far more practical than using used cooking or vegetable oil. "There isn't enough restaurant oil within a 100-mile radius of my farm to operate my diesel-powered equipment for even two days. A lot of farmers in the High Plains are starting to buy presses so they can grow their own fuel. One farmer is looking at buying several presses so he can operate five different irrigation engines, using 50,000 to 60,000 gal. of fuel per year of home-grown biodiesel fuel. He'll hire someone to operate them full-time all year long.
"Growing your own diesel fuel makes economic sense for farmers. I see it as a matter of our survival."
The press and engine are located inside a machine shed. He bolted the press and engine to a 6-in. channel iron frame and used an engine hoist to place the press on the frame, then bolted it on. He installed chutes on the press, one for meal or cake and one for oil, and directed them to plastic containers alongside the press.
A 4-in. dia. auger delivers soybeans or sunflower seed from a 55-gal. barrel into the hopper on top of the press. The auger is covered with aluminum foil which forms a heat shield, trapping exhaust heat off the engine to preheat the seeds, which results in an extra 3 to 5% yield of oil. Oil drips down out of the press on a catch pan and the meal comes out the other end. The crude oil that comes out is first allowed to settle for three or four days in several big barrels located next to the press. The oil is filtered as it's pumped out using a small fuel transfer pump, into storage tanks outside the building where gas is mixed into it. "I use compressed air to agitate the oil with the added unleaded gas mixture. I do this outside just to be safe," says McAmoil.
A pair of old combine augers take meal away from the press and elevate it so that it can be dumped into a truck.
McAmoil uses gas to adjust the viscosity of the oil so that it's more like no. 2 diesel fuel using a biodiesel hydrometer. "I use unleaded gas to cut the glycerine so I don't have to use a chemical process. During summer I mix one part unleaded gas to 10 parts of sunflower oil, and during winter I mix one part gas to five parts of sunflower oil. This ratio is good down to -5 Fahrenheit for winter use. I can just pour it into engines and go. Adding the gas breaks down the oil's glycerine, which results in more btu's per gallon than chemical-made biodiesel, which removes most of the glycerine. The glycerine is the gun powder, so to speak.
"Normally chemicals are used to extract glycerin, but I don't want chemicals in my meal cake because of health and safety reasons for my cat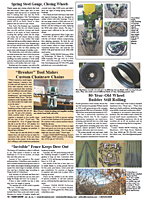 Click here to download page story appeared in.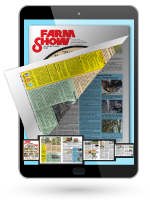 Click here to read entire issue
To read the rest of this story, download this issue below or click
here
to register with your account number.