They're Making Compost In Bags
Making compost is easy with the Miller/Ag-Bag compost system. Once the material is in the bag, the bacteria do all the work. The innovative system uses a machine similar to a silage bagger to push waste material into a plastic bag or "pod".
One or more air tubes, depending on the diameter of the bag, are laid in the bottom of the pod as it fills. When full and tied off, a small fan is connected to the air tube or tubes to pump in air that starts aerobic activity that turns the material into compost. In 8 to 12 weeks, depending on the weather, the compost is ready for a final mixing and curing.
"One of the problems with windrowed compost is that you lose four to five percentage points of moisture per day," says David Acres, Acre Equipment, and a sales and training agent for Miller/Ag-Bag. "If it gets below 40 percent, it affects the composting, and you have to add water. With the pod system and its adjustable air vents every 30 ft., you lose some moisture, but most of it stays."
Acres is managing a number of pilot projects for Miller/Ag-Bag using a CT5 machine and a Manure Monster dewatering machine for high water content material. The CT5 fills a 200-ft. long, 5-ft. dia. "EcoPOD" bag requiring a single air tube and a 3-in. fan. The CT5 feed hopper holds approximately 3 1/2 yards for each plunge of the hydraulic ram. A single 5-ft. pod holds approximately 76 tons of material or 250 cu. yds.
The high volume CT10 fills a 10-ft. diameter, 200-ft. bag, holding 200 tons or 500 yards of material. The larger pod requires two air tubes and a 4-in. fan. The feed hopper holds approximately 7.5 cu. yds. of material for each fill. A remote control unit allows the loader operator to run the system.
So far, Acres has used a CT5 on slaughterhouse waste, dead poultry, and municipal solid wastes. He is also working with contacts in Mexico and Canada responsible for emergency response that might be needed if avian flue infects large flocks. He also reports interest from custom manure applicators dealing with manure management regulations.
One of the attractions of the system is its simplicity. "Other than monitoring the temperature once a day for the first two weeks, you fill the pod and let it go," says Acres.
Making compost in a pod accelerates the composting process. While windrow compost needs to exceed 131 degrees for 15 days, to control pathogens, the pod system requires only 3 consecutive days at 131 degrees.
The pod also eliminates odor problems and reduces the potential attraction for coyotes or other pests. The pod can serve as a storage unit for the finished material, and excess liquids are not a problem.
"With slaughterhouse and municipal solid waste, leachate is a big concern," says Acres. "We normally put the pods on a slight slope and any liquid just goes to one end. The most we've ever collected was five gallons."
Acres notes that windrows usually require 20 ft. between them. The compost bags can be placed as close as 4 ft. apart.
The CT5 is priced at about $95,000 (Can.) with each pod including air tubes and vents running about $1,200.
"A windrow system is less expensive to start-up, but costs of site prep and labor add up," says Acres. "The pod system can be laid down anywhere. The equipment is portable and to expand, you just add pods."
Soon a new machine from Miller/Ag-Bag may make composting even more attractive for custom operators and farmers. The company is introducing a combo machine that will be able to bag either feed or waste material for composting.
"It is a beefed up machine with case hardened shields and packing fingers to handle abrasive materials like manure," says Dale Mickle, field manager for the U.S. and Canada, Miller/Ag-Bag. "It will fill 10-ft. diameter bags and sell for approximately 5 to 10 percent over straight feed bag systems."
Mickle expects to see farmers go to the combo machine. He cites a Wisconsin dairy farmer with 850 cows and most of his fields already at their phosphorous limit. By composting the manure, the dairy will be able to sell it off the farm or use it for bedding.
Con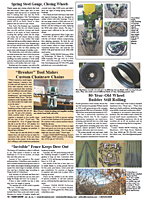 Click here to download page story appeared in.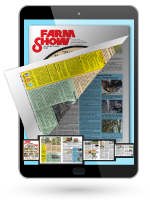 Click here to read entire issue
To read the rest of this story, download this issue below or click
here
to register with your account number.