96-Year-Old Not Fixin' To Retire
At an age when he has every right to slow down and take it easy, Johnny Poirier, 96, still goes to work every day.
Each morning, he climbs into his pickup and drives one mile to Johnny's Tractor Shop in Buffalo, where he works about six hours a day, Monday through Saturday, tinkering with magnetos, carburetors and starters.
Sometimes, he even has business hours on Sunday afternoon.
Bernie Lachemeier, one of his six children, watches every day from her house as her dad pulls up the driveway to his shop, where five cats eagerly await his arrival, she says.
"He lived for this place. It was never the money for him," Lachemeier says.
Part of his dedication is his love of the work, but most is for the chance to visit with friends who drop by.
Heart bypass surgery at 88 and two knee replacements couldn't keep him away for long.
In fact, until last summer when his arthritis became too bad, he was still fixing smaller tractors, although on the last tractors, Lachemeier and her husband, Ron had to do the physical work as her dad gave directions.
"He's not allowed to fix any more tractors because I'm tired of putting them back together again," she says with affection.
Born in 1909, Poirier, the oldest of 10 children, spent his early childhood on a farm near Lancaster, Minn.
In 1918, his father was drafted into World War I and his mother moved the family near Waverly.
Up until then, Poirier spoke only French and hadn't been to school. His mother taught the children at home.
He often missed school in the fall to move cows to graze fields after corn was picked and in the spring as planting got under way.
School wasn't a priority and after sixth grade, he quit to focus on making a living.
When he was about 12, he got his first job. For about two years, he worked on Model T's for a local mechanic.
He didn't earn wages, he says, but was lucky to get $1 at Christmas. Yet, it didn't matter. "Mom wanted me to start the trade," he says. "It was the best thing to learn the trade."
After leaving that job, Poirier farmed and fixed neighbors' cars.
In the early 1930's, he met his wife, Elsie, at a house dance. The two married in 1933 and moved several times before settling in Buffalo.
Today, at almost 90, she's still by his side.
During the Depression, Poirier made ends meet by driving truck, hauling machinery, and transporting boxes of ice harvested off the lakes from Minneapolis. He also farmed and did custom work for other farmers.
In 1939, he took a temporary job at a local implement dealer to pay off a repair bill.
That short-term stint turned into a 16-year career, with plenty of 18-hr. days. "They were busy and he was handy," Lachemeier says. "He raised six kids on $1 an hour."
In 1955, Poirier went into business for himself. "He was a damn good mechanic, and a lot of people knew that," she says.
He even invented his own spark checker for magnetos and has worked on hundreds of them.
His first shop was a small, remodeled garage where the family's priest stored his Model T. Poirier's hoists included three trees in the yard. Mrs. Poirier did the bookkeeping in a playhouse that the children had outgrown.
A few years later, Allis-Chalmers contacted Poirier about starting a company franchise.
He says it was exciting to sell some of Allis-Chalmers' tractors that were new for the time - the D-14, the D-17 and the WD-45. "They had good tractors then," he says.
But when the farm economy went bust in the 1980's, so did Johnny's equipment sales.
Today, Poirier's reputation still stands and he has plenty to keep him busy. But the workload is much less, giving him time to spend with his growing family, which includes 22 grandchildren, 41 great-grandchildren and one great-great-grandchild.
A highlight of his week is Sunday mornings after church when he and Mrs. Poirier, along with 20 to 25 of their friends and family, meet at a downtown restaurant for breakfast and catching up.
But not long after that, it's back to the shop.
Story and photo reprinted with permission from The Country Today.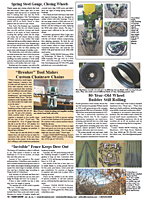 Click here to download page story appeared in.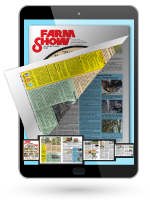 Click here to read entire issue
To read the rest of this story, download this issue below or click
here
to register with your account number.