Home-Built Hovercraft
The Mollenbeck family knows how to have fun and they like building things together. As a result, this St. Gregor, Sask. farm family is enjoying the six-passenger hovercraft that son Kevin built from scratch, with the help of brother Dennis and dad, Wilfred.
"Hovercrafts are great for recreation because you can travel across land, water and snow, all while floating on a cushion of air. The fun part is the challenge of trying to control it. It keeps a guy on edge because it's harder to control than most things," Kevin says. "My dad has always wanted to build one and a friend of ours found an Internet website where you could order the plans, and he gave us the info."
The family ordered building plans two years ago for the model UH17T Hovercraft from Universal Hovercraft. They paid $30 (U.S.). The price for these plans is now $49.95 (U.S.).
The family worked on the project here and there in their spare time. In all, they say it probably took them about 3 1/2 months to complete it.
The lightweight vehicle is made mostly of wood, "and lots of glue," according to Kevin.
"We used a lot of 1 by 4-in. lumber, cut and glued together. The skin is 1/8-in. plywood and all of the seams are fiberglassed to seal them off," he explains. "It weighs about 1,000 lbs. and can carry an additional 1,200 lbs. It's important to balance out your passengers. The driver sits in the middle."
The unit is fully watertight and has 146 1-gal. milk jugs hidden inside the body so it would float if you happened to puncture the body while traveling on water.
Kevin says that on one of first days out with the newly finished hovercraft, he panicked at the controls due to unfamiliarity using them, and hit a concrete post. Thankfully, there was no damage, he adds.
"We've had it cruising at 60 mph. The plans say it is recommended for pulling water skiers, but we haven't done that yet. It will be interesting because it doesn't make any waves, just water bubbles and a lot of wind," Kevin says.
The rig has a 7 by 18-ft. steel tube cabin that detaches for summer fishing.
An 18-hp gas motor turns a 34-in. dia., four-blade fan that Kevin carved from laminated 1 by 6's. This fan pushes air under the hovercraft, filling up a skirt made from regular tarp material, and lifting the unit's hull on a 1-ft. cushion of air.
A 100-hp Subaru motor, recycled from a car, is used to power another propeller in the back, for propulsion.
"You steer and throttle the rear motor with one lever, and the other motor is wide open when you're driving," Kevin says. "The hovercraft also has three rudders and an elevator at the back. The elevator isn't effective until you're going over 40 mph. Its purpose is to level you out."
He says that while the main structural information for the body is provided in the plans, some aspects such as the cab, are left entirely up to the builder.
When it comes to using the hovercraft, Kevin warns that, "you can't panic in a tight corner û you can't cut back on the power, because you need even more power to keep your steering in the turn. If you try to turn without enough power, you'll change the position of the craft but not the direction of motion.
"To stop it, you turn it 180? and use full engine thrust to slow you down as you're sliding backwards to a stop," he adds.
The family used mainly materials that they already had around, but say that if they would have had to buy the motors and the wood, the project would have cost between $5,000 and $6,000.
Anyone interested in hovercrafts or buying plans to make one can visit www.universalhovercraft.com or phone 815 943-1200.
Contact: FARM SHOW Followup, Kevin Mollenbeck, Box 1, St. Gregor, Sask., Canada S0K 3X0 (ph 306 366-2119).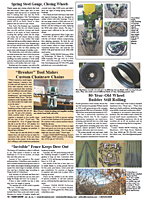 Click here to download page story appeared in.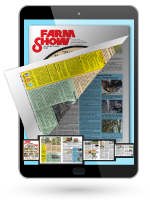 Click here to read entire issue
To read the rest of this story, download this issue below or click
here
to register with your account number.