Fish And Veggies Grow Together In Solar-Powered Greenhouse
Mark Ostrye is an air force pilot who has fought in combat. Although his job continues to keep him very busy, he has developed a system in his spare time for producing a year-round supply of both vegetables and fish. And he does it all without increasing his utility bill.
His self-contained system combines aquaculture (fish farming) with hydroponics (growing plants without soil). The plants clean the water for the fish, and the fish provide nutrients for the plants through their waste excretions. The sun supplies all the power needed through photovoltaic solar panels that power water air pumps, air circulation, and fish aeration.
Ostrye came up with this system as a way to economically produce healthy, organic food for himself and others. He calls it "aquaponics".
According to Ostrye, the system uses 90 percent less water and produces 40 percent more produce in a given space.
His family gets to enjoy a year-round harvest of tomatoes, cucumbers, lettuces, parsley, basil, and fish.
The system consists of one 500-gal. fish tank and two 4 by 8-ft. grow beds. Other units can be added as needed to increase production.
"All of the energy to run the pumps, air circulation, and fish tank aeration come from two 75-watt, 12-volt PV (photovoltaic) panels," Ostrye says. "The system has the capacity to operate independent of any grid power for four to five completely overcast/cloudy days, and this is sufficient for most locations. After that, the battery bank of four 6-volt, golf cart-type deep cycle batteries would need to be recharged."
Ostrye uses a 12-volt RV-type Shurflow pump to circulate water from the fish tank to the hydroponic plant stands. A 12-volt, thermostatically controlled vent/fan provides air circulation.
The fish are fed automatically with a non-electric $2 feeder made from a five gallon bucket. No feeding labor is required, plus Ostrye says a study from Langston University reports a 72 percent increase in fish growth rates if feed is always available.
The only other need for electricity is to pump the water from the fish tank to the grow beds. For this, he uses a specialized solar-powered 12-volt pump that operates via a timer and automatically provides the needed water to the grow beds at various times throughout the day.
In winter, two valves are repositioned and water returning to the fish tanks is pumped through a south facing 3 by 6-ft. solar hot water panel made with black copper pipe before it returns to the fish tank. This increases the water temperature for the fish and creates a "heat sink" for the greenhouse.
"The focus of this project was directed at creating the simplest way to grow multiple vegetable types aquaponically, year round, with little or no need for power besides what the system itself would provide," Ostrye says, noting that there are just two moving parts in the entire greenhouse. "And with tomato and cucumber plants bumping off the ceiling in February, it's certainly been far more rewarding and provided better results than any conventional gardening I've ever attempted."
Ostrye has put together an illustrated manual called The Aquaponic/Photovoltaic Family Food Production. It's available for $49.95 (plus $3.00 S&H).
You can also learn more about aquaponics at: www.aquaponics.com.
Contact: FARM SHOW Followup, Mark Ostryre, J&M Ventures, 15565 SCR 206, Blair, Okla. 73526.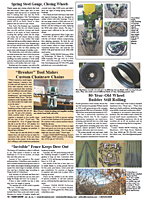 Click here to download page story appeared in.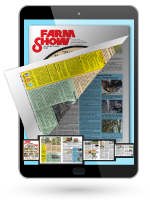 Click here to read entire issue
To read the rest of this story, download this issue below or click
here
to register with your account number.