Self-Propelled, Articulated Big Square Baler
Putting up big square bales is a fast and easy job for Jerry and Tom Fry, Montpelier, Ohio, ever since they built their own self-propelled, articulated big square baler. They built it by attaching the front half of a Buhler Versatile 2270 4-WD tractor - equipped with a 290 hp Cummins engine - to a new Hesston 4910 baler that makes 4 by 4 by 8-ft. bales. The entire rig rides on just four big flotation tires.
Fry Brothers operate a steel fabricating shop where they're always working on something new. Local customers are used to seeing new things being built. FARM SHOW has featured a number of their inventions over the years. "Many of our customers have enjoyed watching the progress of this machine whenever they come in for business," says Tom. "We first put it together in 2003 and have been testing it for two years. We know it works, and we're thinking of building it commercially."
One unique feature built into the baler is a custom built hydraulic turntable on back that rotates the bale one quarter turn, leaving bales crossways in the field. "It allows us to come back later with our self-propelled bale wagon and drive in the same direction as the baler while picking up bales," says Tom. "That way we don't leave tracks crossways with the bale wagon, which leaves the field smoother for the next cutting."
They removed the back half of the tractor, leaving the articulation point intact, and moved the front axle back 40 in. to provide a better balance. They removed the driveline from the baler, then built a steel frame to connect the machines together. The baler's tongue extends forward just behind the tractor's axle. Connected to the rear of the engine with a short driveshaft are two stackable hydraulic pumps. One pump operates a hydraulic motor that drives the baler and the other pump operates a dual motor that's used to propel the unit.
They also made a pair of fuel tanks and mounted one in front of each tractor wheel. And they made a platform and ladder for climbing in and out of the cab.
What are the advantages of a self-propelled big square baler? Here's what the Fry brothers say:
• Smoother ride which allows for faster baling. With the tractor's big 30.5 by 32 wheels, the ride is exceptionally smooth, even in rough fields, they say. That allows driving at speeds up to 15 mph in the field, depending on baling requirements. "The sooner you get hay or straw out of the field, the less likely it will get rained on which results in more productivity," says Tom. "This unit travels across bumpy fields so well the driver hardly even feels it. The tractor's 3-speed hydrostatic transmission makes it easy to vary the speed. In first gear we can go up to 6 1/2 mph; in second gear up to 15 1/2 mph; and in third gear up to 21 mph all by operating just one lever."
• Less maintenance. There's no strain on universal joints or driveshafts to break down when making turns - just flexible hydraulic hoses.
• No driving over windrows. There's more clearance between the wheels on a 4-WD tractor than on a 2-WD tractor, especially one equipped with dual wheels, says Tom. "As a result, we're not driving on the edges of windrows and packing the hay or straw down so much that the baler can't pick it up. The wide distance between wheels also helps keep the tractor from shaking from side to side."
• Short turns. The tractor-baler's articulation point allows the machine to turn shorter at the end of the field. "The entire rig, including the turntable, is about 40 ft. long which is about the same length as a regular 2-WD tractor pulling a baler. Yet we can turn so short that we can go right to the next windrow instead of skipping every other windrow," says Tom.
The biggest challenge, he says, was getting all the hydraulics figured out. "We had a hydraulic engineer from SunSource help us with that. Also, getting the tractor and baler to balance out took some time."
The Fry brothers say they chose the Buhler Versatile because its design allowed for easier connection than other 4-WD tractors.
Contact: FARM SHOW Followup, Jerry and Tom Fry,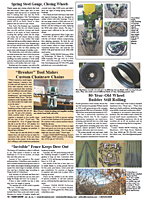 Click here to download page story appeared in.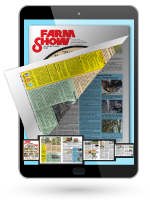 Click here to read entire issue
To read the rest of this story, download this issue below or click
here
to register with your account number.