Used Processing Equipment Puts Small Farm Dairy In Business
When John and Judy Davis, Kennan, Wisconsin, began looking for ways to increase income from their small Holstein herd, they figured their options were either to add cattle or to process and market their own milk.
They were already buying a lot of feed. Adding cows was going to require even greater feed purchases or more land. That wasn't what they really wanted.
So they decided to look into processing their own milk. They learned that dairy processing equipment, even for a small farm, was going to set them back close to $1 million. "It was easy to see why no one else was doing it," Davis says.
Still, they liked the idea of bottling and selling milk, so they looked at used equipment. "Health and sanitation regulations outlawed a lot of older equipment. There was hardly any used equipment available that would pass inspection," he reports. "We could have put together a milk processing plant for our farm from modern used equipment, but the cost was still going to be between $300,000 and $500,000.
"We finally found some older used pasteurization, homogenization and bottling equipment that didn't meet state and federal requirements. Some of what we found was in good shape, but just needed guards and shields here and there to be brought up to date," Davis says.
After checking with the Wisconsin Department of Agriculture, Trade and Consumer Protection, they learned that the old equipment could be used if it were updated. Davis figured he could make most of the necessary modifications in his shop, so they purchased the used equipment and he went to work.
"It took two years to get the equipment together and make all the changes that were required so it would pass inspection," he says. "I had to have some of the parts I needed made at local fabricating shops. I did the work on the farm with the inspectors literally looking over my shoulder. There were times when they made me redo some of the work, but I knew it would pass inspection when I was done."
One of the more difficult challenges was finding a bottling machine. The Davises literally looked high and low for one, even contacting carton and container makers. "We were looking at paper and plastic, but then learned about Stannic, a Canadian company that still produced glass containers. We contacted them and they helped us locate a reasonably priced used bottling machine that would work with their containers."
Once the building and equipment passed inspection and the bottles were delivered, the Davises opened a store at their farm where they're selling whole, 1% and 2% milk (both white and chocolate) and cream from their cows. They also stock butter and cheese from Edelweiss Cheese Co., Marshfield, Wisconsin.
"We sell our excess raw milk to Edelweiss Cheese, in exchange for butter and cheese. When their route man picks up our milk, he delivers the butter and cheese," Davis explains.
The Davises also provide milk to a few area stores and have started a small home delivery route as well.
To pay for the equipment, the Davises sold part of their herd. They're now milking only 10 cows, but are processing most of the milk on the farm. Volume doesn't require them to process every day, but milk sales from the farm store and through area grocery stores are increasing at a steady rate. They price their milk competitively so they figure they'll continue to gain market share. Right now, they're making as much from the farm as they were milking twice as many cows. "I'm estimating that if I pay myself $15 per cwt., I can afford to continue processing," Davis says. Their plan is to grow the herd as demand increases, while processing an ever-increasing percentage of the milk they produce.
While the Davises believe small dairy processing might be making a comeback, they're not sure they'd recommend it to everyone. "We were able to put our plant together for under $100,000, but it took most of my time over a two year period to do it. There were a lot of legal and regulatory hoops to jump through, and some of them were on fire," Davis says.
Contact: FARM SHOW Followup, John and J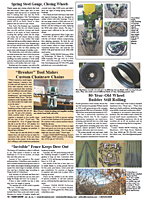 Click here to download page story appeared in.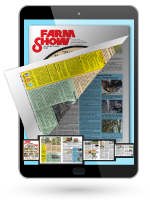 Click here to read entire issue
To read the rest of this story, download this issue below or click
here
to register with your account number.