They Drove Hogs, Not Cattle
Big cattle drives evoke romantic images of the Wild West. But have you ever seen a hog drive in an old Western? Probably not.
Hog drovers have gotten little attention from historians, novelists and movie producers. But some of their accomplishments were colorful and impressive.
For example, my grandfather and some of his neighbors once trailed 150 Hampshires 28 miles across open prairie. They corralled the herd in a cemetery overnight and covered frozen river ice with straw to provide a skid-free surface for the puzzled pigs.
Gramps said herding hogs through open country was a breeze compared with driving them through towns. Long before they reached the stockyards, hogs would often get spooked by city sounds and kids with slingshots. And ladies often terrified the pigs by waving their aprons to make sure the hogs wouldn't foul their flower beds.
When I was a kid, my great uncle Berry used his own brand of pig psychology to drive hogs. He reassured the animals by talking as he trailed. Sometimes he whistled a tune or clacked two sticks together to hold their attention and keep them on course.
Uncle Berry had what it took to be a successful hog drover: patience. He never tried to hurry hogs, even when the weather was cold and blustery. Occasionally, he would slide a 5-gallon bucket over a sow's head to maneuver her in tight quarters. He said it was better to outsmart a hog than to outrun him. "Too much cussing and poking will get his head on the wrong end every time," he used to say.
Driving hogs had hidden advantages, such as building muscles and saving energy. Feed yard hogs don't always behave like fair pigs, so over-the-road drives were never uneventful. Even in our automated hog-handling era, I encourage farmer-friends to try a proven system-open the gate, head Šem up, and move Šem out.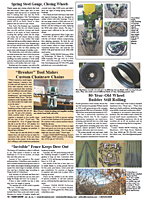 Click here to download page story appeared in.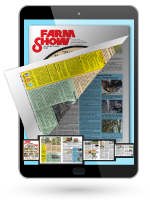 Click here to read entire issue
To read the rest of this story, download this issue below or click
here
to register with your account number.