Low Cost Way to Extend Life of Tractor, Car Engines
"We feel it can double or possibly even triple the life of tractor, truck and car engines," says Walt Pederson, mechanical engineer and inventor-manufacturer of the Oil Well, a just-introduced add-on device that lubricates the innards of internal combustion engines (gas or diesel) before starting to prevent costly wear and tear caused by "dry starts"
Pederson notes that 80 to 90% of engine wear occurs during starting because pistons, valves, main bearings and other components are starved of oil until the engine starts and runs several seconds.
"The hotter the engine, the more complete the gradual drain down of oil and the greater the wear from conventional dry starting," Pederson points out.
His pressurized Oil Well device solves the problem by automatically (or manually via a push button) bathing all major internal wear parts with a squirt of oil when the ignition is turned on-and before the starter kicks in to turn the engine over. After the engine starts and oil pressure increases to about 10 psi, the device automatically "reloads" for the next start-up by intercepting a pint of filtered crankcase oil and storing it under pressure. At.the time of installation, and only th hone time, you add an extra pint of oil to the crankcase.
"Designers of internal combustion engines have tried for the past 25 years to solve the `dry start' problem but nobody's come up with a practical, cost-effective solution. We think the Oil Well is the long-awaited answer. It's inexpensive (less than $100), requires no maintenance (uses no pumps, belts or motors) and you can install it yourself in half an hour.
Pederson says it only takes the pressurized Oil Well 7 seconds to bathe the engine's interior with a pint of oil prior to starting. (A built in automatic timer allows 15 seconds for pre-lubing larger engines (over 500 C.I.D.) in cold weather.
There are three connecting lines on the Oil Well to hook up: An oil hose which you connect to the engine oil pressure system (where the oil pressure gauge plugs in);
a vacuum hose which you connect to the intake manifold; and a low-amperage wire (for operating a special-made solenoid) which ties into the tractor or car's battery. The unit is hermetically sealed to make it weather-proof. It can be mounted in any position alongside, above or below the engine. On cars, you can mount it under the hood or in the trunk, says Pederson.
The Oil Well (patent application in process) comes with automatic (sells for $89.95) or push-button ($79.55) engine pre-lubing. For engines larger than 500 C.I.D., Pederson offers a dual unit with push-button ($123.95) or automatic ($145.95) operation.
For more information, contact: FARM SHOW Followup, Pederson Enterprises; Walt Pederson, President; 4600 64th St SE, St. Cloud, Minn. 56304 (ph 320-255-1991).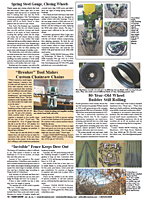 Click here to download page story appeared in.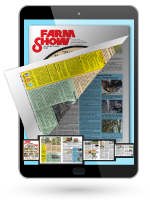 Click here to read entire issue
To read the rest of this story, download this issue below or click
here
to register with your account number.