Automatic Bagger For Big Round Bales
"It'll revolutionize hay and silage making," predicts Maynard Good, Elkhart, Ind., manufacturer of a first of its kind machine for stuffing up to 50 big round bales into one 250 ft. long sausage-like plastic bag.
"Mechanical bagging of big bales opens the door to harvesting alfalfa and other hay crops at high moisture to produce long-stemmed silage. The advantages include virtually zero field loss, less labor, and less equipment expense since the mechanical bagger lets you ensile long-stemmed silage, eliminating the need for expensive equipment to chop alfalfa into small bits and pieces, as is the case with conventional ensiling of silage and haylage. And, instead of storing the crop in expensive concrete or glass-lined structures, you store it in low-cost plastic bags."
The revolutionary bagger for big round bales, invented and patented by Good, who heads his own AgriMarketing/Development Co., allows one man, working alone with a tractor and bale fork or loader, to "stuff" big round bales into long sausage-like plastic bags. (The machine is patterned after the "Max Pac," first featured in FARM SHOW two years ago, which stuffs conventional chopped silage and haylage into long plastic bags.)
Here's how Good and his son Steve, a dairyman, harvest alfalfa using a prototype of the big bale bagger which is just going into commercial production. (The first units are slated to roll off the assembly line early next spring.)
Alfalfa and grasses are mowed with tension released on the conditioner. First cuttings that are very lush from high soil moisture usually are left lying over night but subsequent cuttings in dry weather can be baled right behind the mower. Sound weird? Maybe so, but the results are great. We've had very good results with a 4 by 5 Gehl high density baler. Not every baler can handle 60-70% moisture hay. At last we have found a one-day hay making process that beats our unpredictable weather patterns," Good explains.
The high moisture big bales (about 4 ft. in dia. and weighing about 1,000 lbs.) are hauled to the feeding area at headquarters where, within 24 to 36 hours, they're "stuffed" into long plastic bags with Good's bagging machine, which is so new it doesn't yet have a name.
"Our experience working with prototypes indicates that round bales of wet, long-stemmed alfalfa can be bagged any time after baling up to about 36 hours. Beyond 36 hours, the high-moisture bales start getting mushy and are harder to handle and feed into the bagging machine. We also had some white mold develop on the outside of bales left standing for more than 36 hours. However, this wasn't really much of a problem since the mold died and disappeared once the bales were sealed in the long, air tight bags.
"The beauty of mowing and baling the same day is that you get the crop off the field with virtually no field loss. That's a big plus in itself. But the boost in quality is the biggest plus of all. And, with our new bagging machine, one man working alone with a tractor and bale-handling attachment can do the bagging. The plastic bagging material comes in a continuous roll 250 ft. long. You can stuff 50 big bales into one long bag, or you can make up smaller bags with only several big bales per bag. The number of bales per bag is determined by the number you need for several day's feeding, depending on the number of livestock and the season. In winter, for example, with below freezing weather around the clock, you could feed for several weeks out of one 50-bale bag. In summer, however, you'd probably want to have smaller bags, containing maybe 3 to 5 bales, on hand to make sure the contents of each bag was fed out in a day or two to prevent spoilage," Good points out. "With up to 50 bales in a single bag, the man doing the bagging doesn't have to spend a lot of time tying off the two sack ends, which is a hand operation requiring about 30 seconds. Except for this, the bagging operation is automatic, with the machine able to push round bales into the bag at the rate of about 60 seconds or less per bale, which is faster than you can load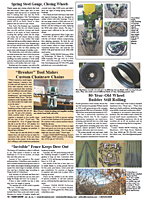 Click here to download page story appeared in.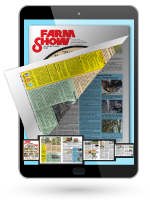 Click here to read entire issue
To read the rest of this story, download this issue below or click
here
to register with your account number.