"Factory" Farmalls Look Antique But Run Like New
"I wanted a tractor that would take me back in time but without the starting problems, iffy electrical systems, and temperamental hydraulics of older tractors," says James Dove, an Ohio entrepreneur who has launched an unusual business "updating" antique Farmall tractors to modern-day standards.
He decided to specialize in Farmall F-12's and F-14's because they're good tractors and there are lots of them around.
"I call these remanufactured tractors time machines because they've been brought up to 21st century standards, yet they still feel like an old-time tractor," says Dove. "I use my F-12 with a 6-ft. Woods pto-operated, belly-mount mower to mow my 6-acre yard. It has a lot more power than the original model, and is fitted with lights for night time work, a spring suspension seat, and bigger rear tires that operate at very low pressure so the ride is a lot better."
For 25 years Dove has been running a job shop that manufactures parts such as engine blocks and manifolds for companies such as International, Federal Mogul, TRW, Ford and GM, to name a few. He's setting up a new plant in South Dakota to produce "factory remanufactured" Farmall F-12's and F-14's. The tractors will come with a full factory warranty.
"Our idea is to totally remanufacture the tractor, not just restore it," says Dove. "The farmer can supply the tractor, or we can. You'll be able to enjoy the tractor like when you were a kid."
So far Dove has remanufactured three tractors - one for himself, one for his dad, and one for a customer. He totally dismantles the tractor and adds new, improved parts wherever possible.
He installs new bearings and bushings in the transmission and updates the engine, adding new oversized sleeves and pistons, stainless steel oversized valves, roller tip rocker arms, and other improvements that more than doubled the tractor's horsepower. He replaces the original radiator core with a new 4-row copper core that fits perfectly into the original radiator frame. He also replaces the original magneto with a new one made by Standard Magneto of Chicago, Ill.
A new 60-amp Ford alternator has enough capacity to keep up with a new electric-hydraulic pump. He makes tooling to reproduce the original bell housing from a Delco Remy electric-starting special Farmall F-14 and then adds a Delco electric starter as well as a 12-volt battery. "The new starter cranks the engine faster than it would normally idle," says Dove.
The tractor's pto lever was located in such a way that it was hard for the driver to reach. So he designed and built a new control lever and mounts it next to the steering shaft support. "The repositioned lever makes it easy to start and stop the mower," says Dove.
The F-12 isn't noted for hard steering, but he added a ball bearing at the bottom of the bolster shaft anyway. "The ball bearing makes the tractor feel like it has power steering," says Dove.
"I use my tractor a lot and have a ball with it. When I operate this tractor I'm not working any more, I'm having fun," says Dove.
"I grew up on old Waukesha F-12 so I know that F-12's and F-14's are basic tractors that are simple to work on and easy to repair, and tune-up parts for them are available from most parts stores. I don't plan to remanufacture other Farmall models such as M's and C's because everything is more complicated on them and labor costs get too high.
"The combination of big 14.9 by 38 rear tires and higher engine rpm's doubles the available speed of the tractor to about 8 mph, which is about as fast as I can cut grass and still make it look good. The engine is also fuel efficient. I can mow six acres of grass in about two hours on less fuel than I used with my old lawn tractor on one acre. I can run the rear tires at only 3 or 4 lbs. of pressure so the tractor really rides nice."
Dove plans to offer custom options to accommodate persons with handicaps or just different preferences, such as 3-pt. hitches, cabs, etc.
He estimates the price for a remanufactured tractor equipped with a 6-ft. Woods mower will be about $16,500.
Contact: FAR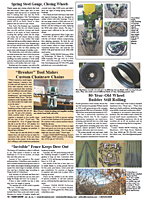 Click here to download page story appeared in.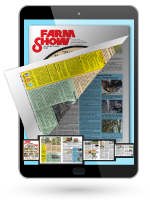 Click here to read entire issue
To read the rest of this story, download this issue below or click
here
to register with your account number.