Business Is Booming For Case-IH "Header Guy"
John Young grew up on a farm with red machinery. He later worked at an International Harvester dealership and, for 23 years, operated a custom combining business in central Illinois, running a couple of - you guessed it - IH Axial Flow combines.
One problem he's had over the years is that the IH 810, 820 and 1020-style platform headers he's used have never been quite as good as he felt they should be.
His favorite was the 820. "While it was an improvement over the 810, it wasn't designed to cut close to the ground and there was no way to adjust it to make it go as low as you sometimes need to in order to get all the soybeans off a field.
"The company's solution was to advise us to tilt the header forward 17 degrees. The angle meant loose beans rolled forward and out of the header. Cut beans had to move uphill in order to be picked up by the auger," he says.
He tried the 1020 header, but says it has its own set of problems when it comes to harvesting soybeans. Young decided there had to be a way to modify the 820 to improve performance. He says it was Divine inspiration that led him to the solution in 1994.
Young tore down his 820 head and modified the support arms in such a way that they went back together just the same, mounted on the combine just the same, but let him run the header lower to the ground than he could run his 1020, and at a forward pitch of only 8 degrees.
He used the converted head for custom soybean cutting that fall and several farmers who knew the 820 and its limitations took notice. He spent much of the next winter converting heads for some of them.
He's been rebuilding and converting 820 headers ever since. The business has grown enough, in fact, that he gave up on custom harvesting last year to rebuild heads full time. Young says farmers in 13 states are now running 820 headers he's modified. He says some of his customers tell him that in harvesting bushy-type soybeans, the modified 820 header will harvest up to 5 bu. more per acre.
He runs the business, Young's Custom Ag Service, from his farm shop near Spring Valley, Illinois. He says the header conversion business is based on two things: The idea that led to the modification of the support arms and also the service he offers. "From the beginning, I've offered a full harvest guarantee on every header we modify," he says. "The change in the arms is the only thing that's different about the head. So farmers still get parts from their dealers, with the exception of the support arms. And if they need support arms, all they have to do is call and I'll ship them out the next day," he says. "If they need support arms, though, they've probably hit a bridge or a stump or something and it will take more than new support arms to get them up and running again."
Young says many farmers who'd like their heads converted don't have a way to haul them to his shop. "We built a gooseneck trailer that will hold up to three headers, so now we can bring them in ourselves," he says.
Even with the trailer, he felt Kansas, Nebraska, the Dakotas, western Iowa and Minnesota were just too far to haul headers. He solved that problem by working out a deal with a Laurel, Nebraska farm couple. "They let us use their shop in the spring, so when we have a number of headers to rebuild in that area, we load up our equipment and go to Nebraska," he says.
Young charges a flat $1,800 per header, no matter how big it is. Any parts needed are extra. "When we get a header in for rebuilding, we remove the reel and the row crop dividers and then take off all the sheet metal, the entire cutting system and all the skid shoes. Using a jig I built just for the purpose, we modify the support arms, and then we put it back together again," he explains.
While he has the header apart, he checks the cutting system for wear, rebuilds the wobble box and also checks out the auger, to make sure it's positioned and operating properly.
"We restore all the flex and travel in the cutting system that the header was designed to have. When we're through, the header will cut closer,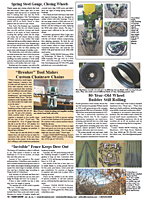 Click here to download page story appeared in.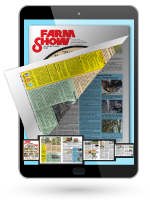 Click here to read entire issue
To read the rest of this story, download this issue below or click
here
to register with your account number.