Deere's "Biggest Product Launch Ever"
FARM SHOW recently traveled to Albuquerque, New Mexico, along with other editors and thousands of Deere dealers from all over North America. We were there to get a look at what Deere described as the biggest new product launch in the company's 164-year history.
The new product line includes more than 50 new products, ranging from tractors and tillage equipment to planters, forage harvesters, cotton pickers, telehandlers, and more. You'll see most of them at farm shows and in dealer show rooms this fall.
Following are some observations made by Deere officials during the 2-day event.
• Deere currently has about 60 percent of the market for new tractors and combines sold in North America.
• Deere spends more than any other company on research and development. Last year the company increased spending by an additional 15 percent.
• Sometime next year, Deere is expected to introduce an automatic steering system in the $10,000 range. Cutting-edge GPS-based automatic steering systems now on the market can cost $40,000 to $75,000. All of the company's new 8020 series tractors are engineered to be GreenStar ready.
• "Condition-based maintenance" is coming. That is, your equipment will automatically alert your dealer by wireless technology when it needs service so the parts can be ordered and ready when you need them. Dealer technicians will also be able to alert you to problems while the machine is still in the field.
• Map-based seeding. Deere's new map-based seeding allows you to to change planter seeding rates on-the-go, according to a prescribed plan, without touching a button or controller in the tractor. The idea is to take data from yield maps and soil tests to develop a seeding population map and load the information on a PC data card.
The system is now available for all 1700 series MaxEmerge Plus planters (except the 1780 rigid planter).
• More use of crop-based plastic. Combines delivered for the 2002 season will have body panels made from soy-based plastic.
Here's a brief summary of just-introduced equipment:
• The 9020 series line of 4-WD tractors gets a new high-end model as well as a third tracked machine. Deere says the two new 450 hp models - 9520 and 9520T - are the biggest on the market.
A new 18-speed powershift transmission lets you "bump shift" up two gears at a time when needed. There's also a "wire control" setting that allows you to dial in speed and let the tractor decide when to shift based on load factors.
• The new 8020 series of tractors provide a couple of innovations: The new "Active Seat" (also offered on the 9020 series) and Independent Link Suspension (ILS). The Active Seat system uses sensors to measure seat travel. The sensors are linked to an actuator and when you go over bumps the system automatically reduces excessive vertical movement of the seat. The result is a much smoother ride for the operator, allowing you to travel faster in some field conditions. Editors got a chance to compare the new seat with Deere's standard seat across the same rough terrain, and there was no comparison. The seat is available on wheeled tractors only and has a list price of $1,850.
The ILS system is a true independent front suspension. This system improves handling in the field, and significantly reduces power hop so you can cover more acres per day with less power loss. The new 8020 series includes five new models from 170 pto hp to 255 pto hp (Deere claims to offer the highest hp row crop tractor on the market). Each of the models - 8120, 8220, 8320, 8420, and 8520 - is offered in a track version as well.
• A new optional lighting package is also available on both the 9020 and 8020 series tractors that improves night visibility up to 350 percent. FieldVision lighting features high-intensity discharge Xenon bulbs that consume less power, and outlast halogen bulbs.
• Deere revamped its 6000 series line with its new 6020 models. It also offers a mid-priced 6005 series with two models aimed at producers looking for a cab-equipped tractor at a competitive price. And it will now o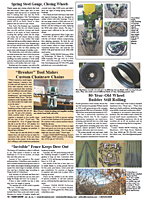 Click here to download page story appeared in.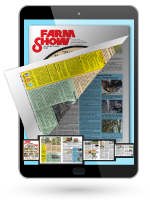 Click here to read entire issue
To read the rest of this story, download this issue below or click
here
to register with your account number.