Generator Produces Power From Waves
If you've ever sat by an ocean and watched the surf pounding a beach, you might have wondered why no one's ever found a good way to harness all that power.
Researcher Alan Wells wondered too, and then decided to pull together a team of scientists and engineers to come up with ways to harness ocean wave energy. Called Wavegen, the Scottish-based group has been working on the idea since 1992.
Wavegen says that converting just 0.1 percent of world wide wave energy into electricity would satisfy total world demand for energy more than five times over.
The group has designed several wave-driven pumps and power generators, based on two elements: a collector to capture wave energy and a turbine that transforms the wave energy into power to drive pumps or generators. Wells himself designed the Wells Turbine, an air-powered turbine that continues rotating in the same direction no matter which direction air flows through it.
Wavegen's wave energy collector is a partially submerged shell, open at the bottom and closed at the top. As waves rise, the pressure inside the closed shell compresses the air inside. When compressed air from the collection chamber is forced out through a check valve, a vacuum is created when the wave falls. Air rushing back into the chamber to fill the vacuum flows through the turbine, providing power to turn a generator.
If this system is built in an area where wave action is fairly constant, the turbine puts out a consistent and uninterrupted flow of electricity.
Wavegen designed their wave power collection system to work on shores or anchored in the ocean near coastlines. They've also designed combination wave and wind generating stations.
In addition, Wavegen is developing an offshore floating wave station to be used to collect power for use by the offshore oil industry. Called the PowerBuoy, Wavegen expects it to be important in development of marginal offshore oilfields where development of a major production platform could not now be justified.
They're also studying desalination of seawater using wave-generated power and using excess electricity to power greenhouses where high value crops can be produced, eliminating the high cost of bringing fresh food into remote areas. And, too, they're looking at wave-generated electricity to electrolyze water to produce hydrogen gas which could be used in a number of ways, including fuel cells.
Contact: FARM SHOW Followup, Wavegen, 50 Seafield Road, Longman Industrial Estate, Inverness IV1 1LZ, United Kingdom (ph 011 44 01463 238094 ; fax: 011 44 01463 238096; Website: http://www.wavegen.co.uk). (By Mick Lane, Contributing Editor)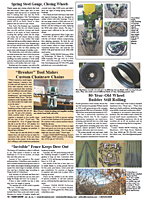 Click here to download page story appeared in.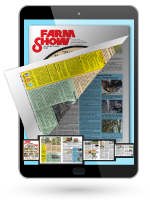 Click here to read entire issue
To read the rest of this story, download this issue below or click
here
to register with your account number.