Cryogenic Sub-Zero Processing: Where To Get
From cultivator points to racing engines, gun barrels to hitch pins, subjecting metal parts to extreme sub-zero temperatures is catching on fast as a way to increase useful life.
Cyrogenic processing of steel involves using liquid nitrogen to lower the temperature of parts to -320? F.
But don't try this at home, experts warn. For the treatment to be effective, it must be done as part of a controlled process.
"You can't just immerse a piece of steel in a tank of liquid nitrogen," says Rick Diekman, Controlled Thermal Processing, Inc., Streamwood, Illinois. He says that although cryogenic processing is starting to catch on for agricultural equipment, the majority of the company's customers are motor sport enthusiasts. A cryogenically treated race car transmission, for example, will last two to three times as long as an untreated one. "That's typical," says Diekman, noting that cryogenic processing normally doubles product life.
Les Baych, Dave Snyder and Bruce Melick opened Cryogenic Engineering, Inc., in Cedar Rapids, Iowa, last year. The three formerly worked for Midland Forge. Baych says they got into the business after sending out parts for cryogenic processing. A die that was normally good for 7,000 pieces lasted through 193,000 pieces after treatment.
Seeing the potential, the three contacted "300 Below", a Decatur, Illinois, company that sells cryogenic equipment. They bought what they needed and set up shop.
Diekman says a New England knife manufacturer pioneered the idea of cryogenic processing nearly 60 years ago. It was later refined by Applied Cryogenics, a Waltham, Mass., company which developed equipment that it now sells to other companies.
Diekman says the process is just beginning to be used for agricultural equipment like cultivator chisel points.
In cryogenic processing, the temperature of the item to be treated is lowered to at least -300 degrees F. "It is very important that the temperature of an object be brought down at a controlled rate that is compatible with the material," he says. "Our process involves placing an object into a chamber at room temperature. The chamber is sealed and the temperature is dropped to -320 degrees F over a period of 8 hours or so. The temperature is dropped by allowing liquid nitrogen to enter a heat exchanger that cools the air in the chamber," he says. Liquid nitrogen is never allowed to actually touch the parts being treated.
Once the temperature in the treatment chamber has reached -320 degrees F, it is held there for at least 6 hours. Some items, however, may be held at the low temperature for as long as 36 hours. "It depends on the materials being processed," Diekman says.
After the part has been at -320 degrees F for the proper length of time, the machine then brings it back to ambient temperature, again very slowly to avoid damaging it. Most materials require an additional tempering process. The cryogenic processing machines Diekman uses can continue warming the parts inside up to +300 degrees F. and then cool them again at a controlled rate.
"In some cases, this tempering cycle is repeated a second or even a third time. Again, the rate of change of temperature is rigidly controlled during each cycle," he says. "This is much more effective than the rapid heat and quench process alone that some use to temper steel."
The cryogenic process works on all types of steel and most other commonly used metals. Some sources say steel needs to have a carbon content of at least 0.4 percent while others say this isn't important. Likewise, some say softer type 300 stainless steel doesn't benefit from treatment, while Diekman has conducted studies that suggest otherwise. Harder type 400 stainless steel does respond, as do most other metals, such as brass (musical instruments), copper, aluminum alloys and some, but not all, cast iron. In addition, some plastics also benefit from cryogenic processing.
Baych says they've approached manufacturers about cryogenic treatment of wear parts on farm equipment, but with few successes.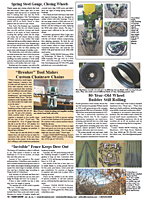 Click here to download page story appeared in.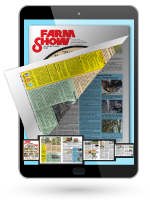 Click here to read entire issue
To read the rest of this story, download this issue below or click
here
to register with your account number.