Pickup Performance Boosted By "Hybrid Fuel" System
I bought a 1991 Ford F-250 4-WD with a 460 engine and a 5-speed transmission. To get more torque at low rpm's, I advanced the cam timing 4_ BTDC. The computer system in the truck adjusted the engine electronically via sequential multi-port injection," says Harry Wallace, Woodland Park, Colo.
"A bad side effect of this change was that I had to use premium gas to reduce pinging under heavy loads. Since I frequently pull a 22-ft. gooseneck trailer with gross vehicle weights up to 25,000 lbs., even premium gas wouldn't completely stop the pinging.
"So in November, 1999, I installed a supplementary propane injection system in the pickup. It consists of three pieces of 1 1/4-in. dia. PVC pipe with a #34 Garretson venturi valve on the center pipe. They're arranged to cause maximum turbulence in the air cleaner to mix the propane and air thoroughly at extremely lean mixtures.
"I've found that the best mix is 2/3 gas and 1/3 propane. This completely stops pinging under any engine operating conditions using 87 octane regular gasoline. And best of all, it boosts power almost 20 percent.
"I have a switch on the gearshift to allow me to turn the propane on and off as needed. I discovered, to my surprise, that the computer management system on the engine automatically adjusts when I turn on the propane. The first time I turned on the propane, the engine bucked and sputtered until the computer adjusted. But then the settings are stored into the computer's memory. So now, when I turn off the propane, it automatically adjusts back to straight gasoline.
"I'm saving 60 percent on fuel costs by only buying regular gas and using 1/3-propane. And I stopped the pinging under heavy loads so the engine does not self-destruct.
"Key to the system is that I added a K&N air filter soaked in oil to the air cleaner. As the propane passes through the filter it comes into contact with the liquid oil which removes the static electricity so the mix will thoroughly homogenize, eliminating positive and negative charges so there's no segregation of air and propane. Otherwise, the air induction system is stock.
"I mounted a 50-gal. propane tank in the back of my pickup. I use one tank of propane every 1,000 miles pulling a heavy gooseneck trailer.
"I've done a lot of research on gasoline and propane over the years and have discovered that gasoline provides power and mileage but it's difficult to control the burn because it's a liquid. With propane, on the other hand, it's easier to control the burn since it's gaseous, but it lacks btu's for power and mileage. My hybrid fuel system provides a powerful high mileage mix that easily controls the burn.
"This system requires no alteration of the emission controls or operating computer. Overall, I'm happy with how it operates."
Contact: FARM SHOW Followup, Harry E. Wallace, P.O. Box 521, Woodland Park, Colo. 80866 (ph 719 687-3761).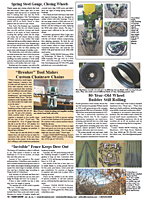 Click here to download page story appeared in.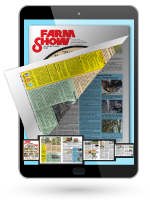 Click here to read entire issue
To read the rest of this story, download this issue below or click
here
to register with your account number.