Collector Proud Of Her Udderly Mooving Mooseum
Ruth Klossner lives by herself but she's not alone. She's got more than 7,000 cows to keep her companyŕ in the house!
Her "coe-llection" is thought to be the largest in the world.
Klossner lives in Bernadotte, Minnesota, and has been accumulating cows in her 1,700 square-foot home since 1978. At last count, she had 7,516 bovines of every description.
While her humble abode could be described as small and cozy ű well, okay, "cow-zy"- the little beasts are tastefully arranged, and efficiently fill each nook and cranny without appearing gauche. She calls her home the "Cow Collector's Mooseum."
Klossner's affection for cows began when she was a young child, growing up on a Minnesota dairy farm.
The majority of items in her collection are of the Holstein persuasion, not because she consciously chose them, but because there are more of them in the marketplace than anything else. Personally, she doesn't discriminate within cattle breeds, pointing out that, "if it's bovine, it's fine." However, Klossner does let her personal taste guide her purchases.
"I have to like it. Just because it's a cow doesn't mean I'm going to buy it. Some of the things out there are just ugly," she says.
Possibly, her most unusual item is a handmade fabric cow, adorned with beads and made by a South African Zulu tribe member.
Among her favorite pieces are a Holstein with three small pigs gathered around her, and an item that combines a Jersey, a milking Shorthorn, a boy, a girl and a dog. Both pieces were made by the atrist Lowell Davis.
To illustrate the broad spectrum of cow items Klossner has amassed, the following is only a partial listing of knick-knacks that are either shaped like cows or have cows on them: wooden wall hangings, a telephone that moos when it "rings," rugs, floor mats (one that moos when stepped on), clocks, watches, chocolate "cowpies," and other cow candies, a "Troll cow" (an unusual find), tins, beautiful art prints, cow-shaped Christmas lights, ornaments, stuffed animals, computer screen saver, a lighted, miniature barn village (more than a dozen different barns), blow-up cows, musical cows, embroidered cows, a 16-pound cast iron cow from Japan, in bathroom ű a bottle of Udderly Smooth lotion and a bar of COW beauty soap that's common in Japan, an album with cow greeting cards, rubber stamps, candles, piggy banks, baskets, jewelry, nativity figurines, a cow carved from dried manure, beanie babies, pencils, ties, belt buckles, caps, and she has deemed her spare bedroom the "shirt shack." Out in her yard, Klossner's wooden and concrete cows "graze" near a Holstein-print mailbox.
Klossner says anyone who wants to see the collection can call for an appointment. She has already toured at least 1,900 people over the past six years.
. Contact: FARM SHOW Followup, Ruth Klossner, R.R.#1, Box 123 B, Lafayette, Minn. 56054 (ph 507 228-8573 (home), 507-228-8985 (work), 507-228-8779 (work fax).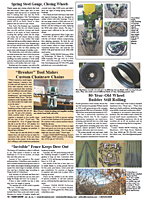 Click here to download page story appeared in.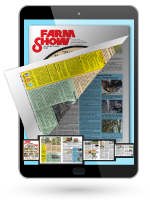 Click here to read entire issue
To read the rest of this story, download this issue below or click
here
to register with your account number.