Mechanical Horse "Wowed" Parade-Goers In The 50's
Mechanical Horse "Wowed" Parade-Goers In The 1950's
People who visit the Saskatchewan Western Development Museum in Moose Jaw can see "the only horse in the world that you have to choke to start."
Although his galloping days are over and he's been put out to pasture, a mechanical horse named "Blowtorch" still attracts a lot of attention," according to Ruth Bitner, collections curator at the museum.
The life-sized mechanical horse was hand-shaped from sheet metal by the late inventor W.J. McIntyre of Swift Current. It was the last of three such horses he made between 1947 and 1952. Weighing 600 lbs., Blowtorch was equipped with a 9 hp gas engine, concealed inside his belly. Riders used a foot throttle located inside one stirrup and a break cable incorporated into the reins to control the beast which could travel up to 12 km/h on small wheels located under the hooves. Its legs were hinged, and moved back and forth to simulate natural motion. McIntyre used real horse hair for the main and tail, and a levered seat that moved up and down to mimic the motion of a live horse.
According to the Western Development Museum, "Blowtorch" delighted thousands of Canadian parade-goers in the 1950's and even captured the interest of Walt Disney.
"At the height of its popularity, Blowtorch was mentioned in an edition of Ripley's Believe It or Not, and McIntyre received a letter from Walt Disney inquiring about his invention," Grosse says. "A decade later, Blowtorch sat forgotten in a leaky shed behind McIntyre's shop. Mr. McIntyre died in 1965 and two years passed before Allan Jacobs, a welder at McIntyre's manufacturing business, spotted Blowtorch's rusted body."
Because it had been exposed to rain and snow, all the bearings had seized. McIntyre's son, Jim, suggested he and Jacobs restore Blowtorch and ride it in the 1968 Swift Current parade. Jacobs rode the horse on a $20 dare from McIntyre, and the outcome was an entertaining surprise for everyone.
"Blowtorch was rolling along at full throttle until its tiny wheels got caught in an expansion joint on an overpass along the parade route. The rear wheels locked and the horse shot forward, as if trying to buck its rider," relates Noelle Grosse at the museum. "It was more than the poor horsey could take," according to Jacobs. "Rivets broke and Blowtorch's head tumbled to the pavement. Jacobs held Blowtorch's head in place with the bridle, but disaster struck again when he crossed the overpass and turned a corner."
At this point, the right leg bolt suddenly snapped, tipping over horse and rider. It was still running, so Jacobs, who was dressed like a cowboy, got up and pulled out a toy gun and shot the horse.
Parade watchers roared with laughter, proving that even a frail Blowtorch was still a hit with the crowd, Grosse says.
Blowtorch was donated to the Saskatchewan Western Development Museum by Jim McIntyre in 1979. Since then, Blowtorch has called Moose Jaw home, with his own stall in the livery stable of the museum branch where "transportation" is the theme.
"It may be retired from the parade circuit, but Blowtorch still inspires curiosity and fascination from visitors," Grosse concludes.
Contact: FARM SHOW Followup, Ruth Bitner, Saskatchewan Western Development Museum, Collections Department, 2935 Melville St., Saskatoon, Sask., Canada S7J 5A6 (ph 306 934-1400; fax 306 934-4467; E-mail: swdm@sk.sympatico.ca; Website: www.wdmuseum.sk.ca)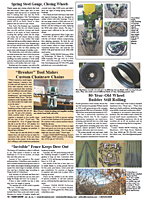 Click here to download page story appeared in.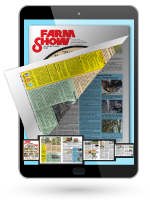 Click here to read entire issue
To read the rest of this story, download this issue below or click
here
to register with your account number.