Deere Owners Respond: "We Like New Rotary Combine"
We had a lot of response to a piece in our last issue entitled "Deere Rotaries û A Few Months Later". Some Deere owners û and officials at Deere & Co. itself û objected to the fact that we quoted a Wisconsin reader who did not himself own a new STS rotary. He was simply passing along what he had heard about the new machine from other farmers.
Loyal Deere owners told us û in no uncertain terms û that they wished we had talked to guys who had actually run one of the new rotaries. So we tracked down a few operators who ran a Deere rotary last fall. Here's what they told us:
Randy Rogers, Sargeant, Iowa: Randy used a new 9650 STS Deere rotary last fall alongside a conventional 9610 Deere. "It's a very good, quiet machine with considerably more capacity than the 9610. We ran it with a new Deere 30-ft. flex head which has the new-style auger with retractable fingers across the width of the machine. This is a tremendous improvement. It feeds crop material through much better and lets us start 30 to 45 min. earlier in the morning because it handles the crop so much better. Setting this machine was a bit different than a conventional machine. We felt like we were starting over, but it was real user friendly. We found that we could get a better sample when we kept the machine full. Our only real concern with the machine is the straw chopper. Both the chaff and straw run through the chopper and it didn't seem to spread as well as the 9610. We run all no-till so it's important to us to get a wide, even spread. After harvest, Deere sent out an update team that went through the combine, making a few improvements. Great service from Deere."
Ryan Young, Young Farms, Underwood, Iowa: "I was fortunate enough to put about 75 hours on a Deere 9650 STS combine last fall. Contrary to what you stated in your article, you don't have to change the concaves on an STS combine when switching between corn and beans. And the rock trap is even better than on previous machines because the beater forces stones down into the rock trap.
"I had no problems last fall with the STS combine that wouldn't come with any other totally new combine. I ran it in tough soybeans infested with waterhemp and it worked great. Grain quality was excellent and we didn't plug the machine once. The new Deere flex platforms are very good. The extra fingers on the cross auger do a great job pulling in crop material."
Bruce Johnson, Hader Farms, Zumbrota, Minn.: Hader Farms has 15,000 acres of cropland and own four Deere 9610 combines. Last fall workers field-tested a Deere 9750 rotary, equipped with a 12-row header, in 170 bu. per acre corn. "We only got to use the rotary for 8 to 10 hours but we were very pleased with it. It appears to be a great corn machine, with tremendous capacity. We found it more user friendly than the Caterpillar Lexion 485 that we tested at the same time. We're interested in the rotary concept mainly because it's supposed to do a better job cleaning with less dockage."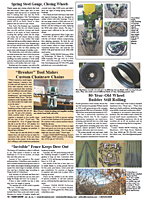 Click here to download page story appeared in.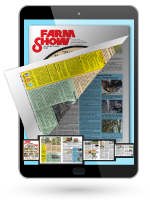 Click here to read entire issue
To read the rest of this story, download this issue below or click
here
to register with your account number.