Self-Steering "Robot" Tractors
Two companies at the California Farm Equipment Show this winter introduced new add-on "robot" systems designed to steer tractors automatically.
Trimble Navigation Ltd., Overland Park, Kan. (800-865-7438 or www.trimble.com) says its new autopilot system connects to your tractor's power steering and becomes a tireless assistant, controlling the tractor hour after hour with a consistency that few tractor operators can match. The system uses "real time kenematic" GPS, which controls the tractor to within inches.
To install, you plumb the system into the tractor's power steering and mount a small terminal in the cab.
Beeline Navigator, Inc., of Fresno, Calif. (559-256-2333 or www.beelinenavigator.com) exhibited what it calls "cruise control for your tractor's steering". They say it allows all tractor drivers to consistently do the job of the best drivers, and also makes night farming much easier. Beeline also uses GPS equipment, mon-itoring tractor position to within 3/4 in. at any time. Beeline has been automating various aspects of tractor operations for six years and claims to have more field experience than any other company.
Ag engineers are also working on "driverless" tractors. Here are a few reports we've seen recently:
• A Stanford University research team, backed by Deere & Co., has developed a satellite-based driverless tractor system. They say it's much more accurate than human operators, with control to within less than an inch in the field.
• The National Agriculture Research Center in Tsukuba, Japan, has been working on an unmanned tractor. Researchers have successfully performed all kinds of fieldwork with no driver on board. "No tractor driver could run as accurately as our automated GPS tractors," says a spokesman at the research center.
• French ag engineers at the CEMAGREF institute for agricultural machinery have created a "driverless" Renault tractor. A driver makes one pass to engage the tractor's satellite system, then lets the tractor do the rest. The tractor's controller can record a sequence of events for a field û speed, depth, etc. û and then be able to reproduce the same sequence a month or year later, as needed. Researchers say they're a couple years away from commercial introduction.
• At the Agritechnica farm show in Germany last fall, a company called Geo Tec Electronics introduced an auto navigation system that combines GPS with radar to operate tractors or other self-propelled machines with no assistance from an operator.
Other research projects into "robot" tractors, swathers and other equipment are going on at Purdue University, the University of Illinois, Cornell University, and, of course, at every tractor manufacturer's engineering lab.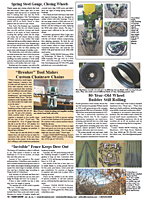 Click here to download page story appeared in.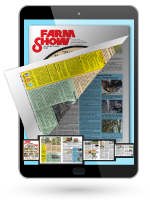 Click here to read entire issue
To read the rest of this story, download this issue below or click
here
to register with your account number.