Self-Stoking Shelled Corn Furnace
"Why should we waste money and energy to turn corn into alcohol when we could just as effectively burn the corn itself?" asks john Finnegan, of New London, Minn., one of three inventors of an automatic, self-stoking furnace.
Unlike anything you've ever seen, the furnace can also be used as a grain dryer. It's designed to burn shelled corn, as well as a variety of other solid residue fuels, including chopped corn cobs, or ear corn, pelleted manure, sawdust, coal or other pelleted or chunk-style materials.
Finnegan says the new Solid Fuel Systems furnace requires no daily, on-going maintenance and needs no more cleaning than an ordinary toal furnace. Corn, or other residue, is moved automatically into' the firebox by a thermostatically-controlled auger. The entire furnace and stoker is self-contained on a portable platform that wheels easily from barn to barn, dryer to dryer.
The first prototype was built last spring by Finnegan, a farmer and farm builder, and his partners Dale Flickinger, a heating systems contractor, and Dennis Damman, owneroperator of a machine shop. The inventors maintain that three to five acres of corn can provide enough "fuel" to heat an average-size home for a year, at a cost much cheaper than fuel oil or propane.
"One bushel of shelled or ear corn approximately equals 3.6 gal. of fuel oil and 5.4 gal. of propane in btu's," explains Finnegan. "Assuming a home uses 1,000 gal. of fuel oil per heating season, at $1.05 per gal., the cost would come to $1,050. To do the same job, 1,500 gal. of propane at $.61 per gal. would cost about $915, and an equivalent 276 bu. of corn at $2.20 per bu. would cost $607. If fuel oil should reach the price of $2 per gal. in the future, corn would have to be priced at $7.25 per bu. to be equal."
The inventors are manufacturing five furnace models ranging from 100,000 btu's up to 1 million btu's, all of which reportedly burn with the same degree of efficiency. Here's how they work:
The small stoker hopper is filled from a bin or storage hopper with corn or other residue fuel. A 3-in. flight auger at the base of the hopper fills with corn and transports it several feet to the bottom of the firebox. In this way, Corn is continuously fed into the base of the fire, forcing its way up. "This is the key to our stove's efficiency. If you feed from the top down, the fire will burn inefficiently and you'll restrict air flow, causing the fire to get too hot at the bottom," explains Flickinger.
The 2 by 3-ft. firebox, on the 250,000 btu model, is the primary burning chamber. Air is circulated there, continuing to burn in the 1,600? heat until virtually no smoke or fumes are left. Then, the hot air slips around an endplate and into a barrel-shaped upper chamber. Outside air is pulled through pipes in this upper chamber to "scrub" off heat, as well as through the 4-in. air space encompassing the entire fur nace. Once gathered, this hot air is forced out through an air duct at the furnace's top for use where needed. Firebox air is slowly exhausted out the stack, which is also "scrubbed" with fresh air so that almost no heat is wasted.
"A built-in safety feature monitors the temperature of air leaving the air duct to be used fo heating," says Flickinger. "If that air temperature exceeds 250?, the auger and fan automatically slow down to prevent damage to the equipment."
The fire chamber can be converted quickly from burning corn and other relatively high moisture residue fuels to dry fuel, such as coal, by pulling the plate between the primary and secondary chambers. The metal housing protecting the selfcontained furnace is completely Waterproof and lined with 2 in. of fiberglass insulation to further protect against heat loss.
"We all agree there's something wrong when burning food is cheaper than burning fuels. The fact is, corn as a fuel can be renewed in one year, versus 25 to 50 years for trees, and millions of years for fossil fuels. Add to that the fact that it's cheaper right now," says Finnegan.
"It's also a great tool for conservation. If just 2,000 households switched from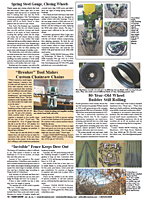 Click here to download page story appeared in.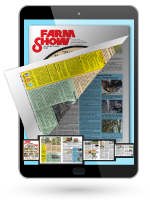 Click here to read entire issue
To read the rest of this story, download this issue below or click
here
to register with your account number.