Build Yourself A Self-Propelled Grain Auger
Canadian farmer, Edgar Raabel, of Pelly, Saskatchewan, needed a bigger auger for moving grain. Instead of buying a new one, he built a 30 ft. self-propelled unit with a 7-in, screw for a total cost of only $80.
All he had to buy was the tube and flighting for the auger. "Most of the other parts were salvaged right around the farm," he points out.
A 4-cylinder Hercules gas engine powers the loader. The transmission, salvaged from an old car, is attached to the rear of the differential, also from an old car. Reverse, first and neutral are the only gear selections available.
To load grain, the auger is driven by a belt from the engine flywheel to an overhead pulley which, in turn, drives two shafts. At the opposite end of each shaft is a gear mounted on the upper end of the auger flighting (see sketch).
Belt tension is controlled by a car jack mounted between the main frame and top pulley.
"Putting the auger.into transport is simple," says Raabel. "Just select forward or reverse gear and, using the extended rod, engage the clutch and away you go."
The clutch control rod is extended towards the rear of the auger to provide easier and safer control of the machine while it's being moved.
A skid plate at the bottom end of the auger prevents damage when it's dragged over the ground.
The loader is raised and lowered either manually through a worm gear and shaft cable arrangement, or mechanically using the same arrangement but powered by a series of gears and shafts driven from the transmission.
The loader is also fitted with an hydraulic motor which operates a bin sweep auger. The sweep auger consists of flighting and hydraulic hoses that attach to the hydraulic pump mounted on the grain auger. Both the loader and bin sweep can be used at the same time.
Raabel has just completed a second self-propelled auger which is larger (10-in.) and longer (50 ft.). It's mounted on the front end from a 1955 John Deere combine, complete with 7:50 x 24 wheels and tires. Power to drive the 10-in. auger is supplied by a 40-hp gas engine, but in a pinch, it can be driven from the tractor's pto. Power to move the unit from place to place is provided by a small aircooled engine. Raabel plans to add two guide wheels to the rear end of the auger for transportation.
The system for lifting the auger will be the same as on the original smaller unit he built.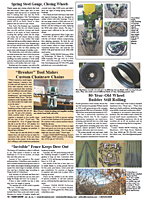 Click here to download page story appeared in.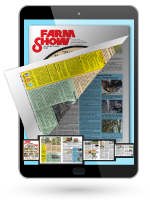 Click here to read entire issue
To read the rest of this story, download this issue below or click
here
to register with your account number.