Big Farm Equipment, Old Bridges Don't Mix
Big farm equipment and old bridges sometimes don't mix. Just ask John Kruse, an Ogden, Iowa, farm worker who fell through a Boone County bridge in May while crossing it with a tractor and cultivator.
The 102-year-old, 80-ft. steel bridge was slated for replacement in June and it was posted for 6 tons. The 1980 Steiger Panther and 40-ft. Wil-Rich cultivator Kruse was pulling may have weighed as much as 17 tons combined, early reports pointed out.
Tom Hollingshead, owner of the tractor, and Dave Anthoney, county engineer, doubt that weight was the only factor - if it was one at all - involved in the collapse.
The immediate cause, they told FARM SHOW, appeared to be that a cultivator shank hooked an overhead suspension cable, pulling the bridge down behind the tractor.
However, the underlying cause may have more to do with the continuing deterioration of rural bridges and roads.
"John took a road we never use to get to the other farm and he honestly didn't see the sign," Hollingshead said. "But there are four other bridges within just a few miles of our place that are all in the same condition as this one. While farm equipment has gotten bigger and bigger over the years, bridge maintenance and replacement hasn't kept pace."
In fact, nearly 1/4 of all county and township bridges in rural areas were built before 1940 and have "outlived their effectiveness," according to a USDA study in 1994.
"With the reduction of state and federal funds (since the 1980's), local governments are finding it difficult to maintain their roads and bridges," the study says. "This places even greater pressure on local decision-makers to find creative solutions to local transportation financing issues."
That still leaves many farmers in a lurch. Said Todd Miller of Zenda, Kan.: "The sad thing is that they will blame the farmer for going over a bridge loaded heavier than its rated capacity, instead of blaming the county/state for not keeping up with the needs of today's larger equipment. We have several bridges in our area that are rated at 5 tons and a few at 6 or 8 tons. A steer fell through the deck of a 5-ton bridge when cattle were being moved down the road, and he weighed only 800 to 900 lbs. What are farmers supposed to do if they can't legally cross their bridges? Quit or move?"
Meantime, a shook-up Kruse, 63, received only minor scrapes and bruises in the accident, thanks to the Steiger's steel cab which protected him when one of the steel beams fell on it. Likewise, damages to the tractor cab, mirror and windshield were minor, under an estimated $2,000. The tractor was removed from the bridge with two tow trucks. The two-year-old cultivator, however, was totaled.
As for the bridge, it'll be replaced with a new concrete slab structure rated at 40 tons this summer.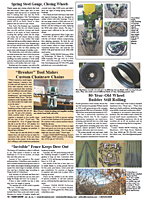 Click here to download page story appeared in.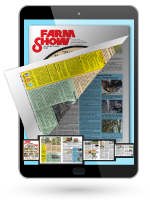 Click here to read entire issue
To read the rest of this story, download this issue below or click
here
to register with your account number.