Owner's Report On Russian Tractors
How good are those Russian-built Belarus tractors? What prompted owners to be one of the first in their community to buy a "Communist" tractor?
To find out, FARM SHOW contacted ten randomly selected owners of Belarus tractors throughout the midwest. Without exception, they cited price as the main reason they bought Belarus.
A Minnesota owner, for example, said he looked at American-made tractors but simply couldn't swing it financially. "I talked a dealer down to $11,500 for a gasoline model. When he told me to take it or leave, I left it and bought a Berlarus 500 with a diesel engine and comparable horsepower for right at $6,000."
Joe West, of Ozark, Mo., who also looked first at American made tractors, said he was offered "10-year-old worn out models for about the same price I paid for a new Belarus with new tires, excellent fuel economy and a new tractor warranty."
Several Belarus owners said they also looked at Deutz, Leyland and other imported tractors before deciding, mostly on the basis of price, to buy Belarus.
Some Hassles
A few owners admitted that friends or neighbors had kidded or needled them about buying Russian-made tractors, but most felt it hadn't been serious. Some said the joking stopped soon after neighbors saw what Belarus could do in the field. Said Jerry West: "There was some kidding for a while. But that's all stopped now. I've taken my Belarus over to pull several neighbors' tractors to get them started on cold mornings. Mine starts anytime."
James Werner, Clintonville, Wis., said his friends even bought him a Russian hat as a joke but added, "the tractor being Russian doesn't bother me a bit." He notes that the Belarus 500 he bought 3 years ago "doesn't have all the extra frills you find on most other tractors but it really gets the work done."
A Minnesota Belarus owner said he was rebuked one day by an acquaintance "for buying a Communist tractor, for taking jobs from American labor, and so forth. But I just let him talk himself out, then told him I noticed he drove up in a Volkswagen car and asked him what the difference was there. It shut him up."
Parts and Dealer Service
"We haven't had any service work done - not one thing has gone wrong in three years, so I don't know how good dealer service or parts availability is," said Jerry West.
Hanley Hemmingson, Warroad, Minn., said dealer service has been extremely good for him and that his Belarus dealer has been quick to pick up and deliver his tractor, or come to the farm, if his tractor needed repairs.
Hemmingson added, "There were some warranty repairs, but we're well satisfied on all that too."
Gary Carpenter, Waverly, Iowa, says he farms close to the dealer he bought from and service has been good. "It's real easy to work on," says Carpenter, "And, there hasn't been much that's gone wrong. Two or three days is the most we've had to wait on anything. The dealer can order parts from Milwaukee, Wis., and they come right out."
However, Boyd Lalond, of Green, Minn., hasn't experienced such good service on parts. He commented, "They're not too good on parts. Some little Mickey Mouse things don't come through and we've waited six to eight weeks for repairs. Twice, though, the dealer loaned us a new tractor while ours was in the shop so his service is good."
Fuel Use
Excellent fuel economy was mentioned by several users as a major reason for buying, or for their continued satisfaction with a Belarus tractor. Said one: Fuel consumption is maybe a little higher than for Deutz air-cooled tractors, but much lower than for similar size American models."
Power, Lugging Ability
Adolph Loritz, Bark River, Mich., says his Belarus 500 will "dig right down and keep running. It's a good tractor and will go through quite a bit of stuff."
"I've been hauling wood out of the timber and my 400 has a lot o`f power for its size. You can slow the engine way down and just keep going. It has a very good engine," said Hanley Hemmingson.
Although power was said to be adequate for their needs, some Belarus owners felt the tractors are overrated on horsepower and that,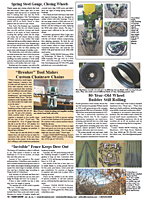 Click here to download page story appeared in.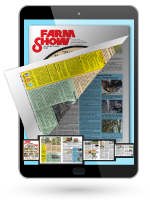 Click here to read entire issue
To read the rest of this story, download this issue below or click
here
to register with your account number.