More Rare Antique Tractors
"The Staude Mak-A-Tractor will easily do the work of four horses," says literature from 1917 that accompanied this photo of a car turned into a tractor.
Like the Auto Tractor featured in the last issue of FARM SHOW, Staude made a kit that could turn virtually any car into a field tractor in 20 min. or less. It was built by the Staude Manufacturing Co., in St. Paul, Minn.
In addition to fieldwork, the tractor was also promoted for road grading because of the high speeds it could attain. It could also be fitted with a power pulley attachment for sawing wood, operating corn shellers, grinding feed, and other jobs around the farm.
And when all the work was done, you could drive it to church!
Road grading in the early part of the century was a labor intensive affair as this photo shows. Two men rode on the grader and one drove the Sandusky tractor, built by Dauch Manufacturing in Sandusky, Ohio. The blades on this big rig could apparently be set any number of ways, controlled by the four control wheels.
There's nothing fancy about this Hoosier farm tractor. A small drive sprocket drives a single big sprocket on the single drive wheel.
The fellows operating this plow-plant rig behind an 18-35 Rumley Oil-Pull tractor would be surprised to learn that many people today think no-till is a new concept. They were planting corn as they plowed with this rig back in the early 1920's.
It took two men to operate this special-built Cletrac snow tractor built by the Cleveland Tractor Company in Cleveland, Ohio: One to drive and one to raise and lower the blade. The New York City streets department bought 100 of these tractors. A blade angled at 45? was used to push the snow to the sides of the streets and then the straight pusher blade shown in the photo was used to push the snow up to the manholes where it was dumped into the sewer system to melt away. Before buying these tractors, snow was shoveled by hand into wagons and hauled away.
This photo caught our eye because of the outrigger and furrow wheel that guided the Rumely Oil-Pull, reducing driver fatigue on big straight-aways. The small furrow wheel that steered the front right wheel was raised and lowered by a piece of chain.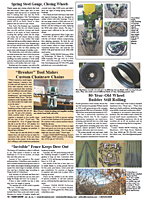 Click here to download page story appeared in.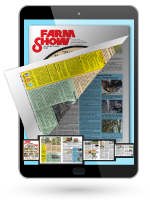 Click here to read entire issue
To read the rest of this story, download this issue below or click
here
to register with your account number.