Resource Directory For Antique Tractor Lovers
ADVANCE-RUMELY The Rumely Newsletter PO Box 12
Moline, IL 61265
Ph. 309-764-6753
Rumely Collectors News 12109 Mennonite Church Rd Tremont, IL 61568 Ph. 309-925-3925
ALLIS-CHALMERS The Old Allis News Nan Jones
Pleasant Knoll
10925 Love Rd. Bellvue, MI 49021 Ph. 616-763-9770
The Allis Connection 161 Hilcrest Court Central City, IA 52214 Ph. 319-438-6234
AVERY
B.F. Avery
Tru Draft
Wayne Bowers, Pres.
PO Box 121
Horseheads, NY 14845 Summer Ph:607-739-7379 Winter Ph: 813-745-2162
B.F. Avery Collectors Assn. B.F. Avery Collectors Newsletti RR1 Box 68
1373 E-100 N
Paxton, IL 60957
Ph. 217-379-9946
CASE
J.I. Case Collectors Associatio Old Abe's News Magazine 4004 Coal Valley Rd.
Vinton, OH 45686-9741
Ph. 614-388-8895
Case Heritage Foundation The Heritage Eagle Magazine PO Box 8429
Fort Wayne, IN 46898-8429 Ph. 219-639-6634
International J.I. Case Heritage Foundation
811 West Foster Parkway Fort Wayne, IN 46807-2202
CATERPILLAR
Antique Caterpillar Machinery Owners Club and Newsletter 10816 Monitor-Mckee Rd. NE Woodburn, OR 97071
Ph. 503-634-2496
COCKSHUTT
International Cockshutt Club Ms. Diana Myers,Membership Secretary
2910 Essex Rd.
LaRue, OH 43332
MrGary Bader, Repro. Parts Ph. 614-387-1428
International Cockshutt Club Cockshutt Quarterly Magazine 12331 CR 316
Big Prairie, OH 44611
Ph. 216-567-3951
The Golden Arrow Magazine N7209 St. Hwy. 67 Mayville, WI 53050 Ph. 414-387-4578
CUSTOM
Custom Club International Assn. and Newsletter 3516 Hamburg Rd. Eldorado, OH 45321 Ph. 513-273-5692
MISCELLANEOUS
Arkansas Valley Flywheelers (Please send SASE)
PO Box 173
Poncha Springs, CO 81242 Ph. 719-942-3325
or 719-539-6262
St. Cloud Antique Tractor and Engine Club
Marty Nash
1920 Carolyn Ct.
St. Cloud FL 34769
Ph. 407-892-2426
Macoupin Agricultural Antique Association
Mr. Dave Ladage, Pres
PO Box 103
Carlinville, IL 62626
Anne Arundel County Antique Tractor Club
Mr. Ted Tracy, President
109 Pine Dr Annapolis,MD 21403
Ph. 410-267-0669
East Coast Antique Tractor Club Mr. William Jubinville, President 81 Cross Rd
Dracut, MA 01826
Ph. 508-454-7086
Hudson Mills Old Power Club Mr. Dan Boyer, Secretary 801 N. Territorial Rd
Dexter, Michigan 48130
Ph. 800-47-PARKS
Flat River Antique Tractor Club Mr. William Lehman
12420 Wacousta Rd
Eagle, MI 48822
Antique Farm Power Club Inc. Branch 42 Edge & TA
Mr. Paul R. Jensen, President 8998 Redwood Dr.
Newaygo,MI 49337
Missouri River Valley Steam Engine Assoc.
c/o Ed Schlotzhauer, President Rt. 3 Box 312
Booneville, MI 65233 Ph. 816-838-6291
Conway Flywheel and Toy Association Mrs. Robin Marlin Rt. 2 Box 123
Conway, MI 65632 Ph. 417-589-2634
Tractors of Yesteryear
Mr. Roger Karn, President 3019 Clute Rd.
Cortland, NY 13045
Ph. 607-756-8213
Brokenstraw Antique Tractor Club New York #3
Mr. Bill Kappler, President
Rd. 1, Box 225A Clymer, NY 14724 Ph. 716-335-2574
The Old Time Plow Boys Club Mr. Chester D. Mackiewicz Jr. PO Box 215
Mertztown, PA 19539-0215 Ph. 215-391-0995
North Texas Antique Tractor and Engine Club
10611 Church Rd Dallas, TX 75238 Ph. 214-341-3141
New River Valley Antique Tractor and Engine Association
Kay Lavelle
221 Edgemont Rd
Christianburg, VA 24073
Mountain Empire Antique Tractor and Small Engine Association Ms. Audrey B. Richardson
Rt 1 Box 270
Sugar Grove, VA 24375
Tennessee Valley Pioneer Power Association
Buddy Woodson-President
PO Box 125
Eagleville, TN 37060
Ph. 615-274-6987
Silver City Antique Tractor Club Fred Engleke
Rt. 4 Box MH 342 Tuttle, OK 73089 Ph. 405-381-2034
Antique Power Association
of the Carolina's
Jim Mason-President
999 Hampton Pl Mooresville, NC 28115
Ph. 704-664-4220
Pioneer Power Antique Tractor & Gas Engine Club Gerald Langworthy
2830 Pointer Rd.
West Branch, MI 48661 Ph. 517-345-5215
The Antique Engine, Tractor
& Toy Club, Inc.
David C. Semmel Secy, Treas. 5731 Paradise Rd. Slatington, PA 18080 Ph. 610-767-4768
Wheat Heritage Engine and Threshing Co.
Wheat County
Box 187
Goessel, KS 67053 Wayne Kreutziger Ph. 316-361-8342
Yesterday and Today Threshing Club
Mike Rose, President 4261 Cole Rd.
Hillsdale, MI 49242 Ph. 517-439-9628
S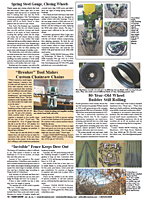 Click here to download page story appeared in.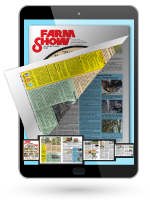 Click here to read entire issue
To read the rest of this story, download this issue below or click
here
to register with your account number.