Closed Loop Manure System Reduces Hauling
With a herd of 475 milk cows, you would think Illinois dairyman Dave Timmermann has a lot of manure to spread. Surprisingly, he doesn't. Just 6 to 7 spreader loads every 3 months or so is enough to handle all the waste generated by his big herd.
How does he do it, you ask?
Timmermann has created an innovative "closed loop" manure handling system that converts manure from his lagoon into two reusable components - dry matter that he takes right back into the barn to use for bed-ding and liquid that he uses to flush the barn.
Timmermann is one of the first farmers in North America to employ a new electric-powered manure extractor from Germany. It squeezes the water out of manure, leaving an odorless, dry material that has the consistency of sawdust.
The extruder mounts on stilts in a small shed outside his barn. Manure is flushed from the barn into a lagoon. From there it's pumped through underground pipes up to the extruder, which uses a screw press to separate out the solid material, which drops through a hole in the floor and onto the ground. The squeezed-out water is returned through a pipe to the lagoon. Another pump in the lagoon delivers some of the water to a vertical steel tank that's used for flushing.
"It greatly reduces the amount of manure that I have to haul to my fields," says Timmermann. "The separator captures up to 80 percent of the solids and at the same time lowers its moisture content from about 80 percent down to about 50 to 55 percent. The piled-up manure is honey-combed with air pockets that allow it to dry very fast. There's very little odor and the nutrient con-tent is reduced so the solids aren't attractive to flies, rats, or other vermin. In the summer the piles are completely dry within 24 hours; in winter it takes about two days.
"I had been using sawdust to bed my catle, but for every truck load that I hauled in I eventually had to haul it back out. I was spending about $100 per week on sawdust and hauling several loads of manure per week to the field. Now I haul only six or seven loads every three months or so. I also sell some by the pickup load to people who use it for mulch around their trees and to keep weeds down.
"I bought the motor-powered separator direct from Germany before it became avail-able in the U.S. I paid $25,000 for it. I spend about $50 per week on electricity to operate the separator and pumps, but I think it's worth it considering the time and expense saved hauling manure and the money I save on bedding. I had been using a different separator that dragged manure across screens. However, the solids that dropped through were too wet to use for bedding. The squeezing action of the screw press on this separator is the key to its success.
"I had a problem getting the German-made electric motor to run on single phase electricity. It turned out that it was a 3-phase motor that had been converted for single phase but it didn't work. I removed the motor and replaced it with a conventional 5 hp motor. If the capacitor or a bearing on the motor ever goes bad I can have it re-paired locally.
"I also had a problem with moisture seeping into the motor where the driveshaft comes out of the gearbox. I solved the problem by mounting a flanged spacer equipped with a weep hole between the gearbox and motor. A weep hole in the spacer allows the water to drain off."
The separator is now sold in the U.S. by FAN Separator (USA), Inc., 466 Randy Rd., Carol Stream, Ill. 60188 (ph 800 451-8001 or 630 871-8882; fax 630 871-8886). Company spokesman Ralph Rueckert says there are about 250 of the units operating in the U.S. They sell for about $32,000.
For more information, contact: FARM SHOW Followup, Dave Timmermann, 111601 Germantown Road, Breese, Ill. 62230 (ph 618 526-7476).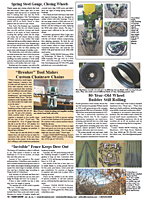 Click here to download page story appeared in.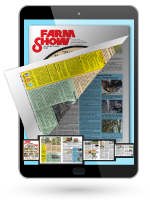 Click here to read entire issue
To read the rest of this story, download this issue below or click
here
to register with your account number.