He Spent $18000 To Modify A New $25000 Pickup
"My pickup has more power and gets better mileage than any other comparably sized 1-ton 4-WD pickup on the market. It'll haul just about anything you can hitch it to," says Jerry Rotering, Cochrane, Wis., who spent $18,000 to install a 175 hp 6 cyl. Deere diesel engine (model 6359A) in his new Chevrolet K-30.
Rotering bought the 4-door, crew cab pickup new in the summer of 1986 for $25,000. It was equipped with dual rear wheels, an 8-cylinder454 gas engine and an automatic transmission. After putting 200 miles onit, he decided to switch to the Deere diesel and a 5-speed manual transmission. He sold the gas engine back to his pickup dealer.
Switching to diesel power was expensive at $7,000 for the new engine, and $11,000 for a 5-speed transmission, remote transfer case, drive shafts, ring gear and pinions, and labor. And that doesn't include the pickup's $25,000 price tag. But Rotering says he can justify the cost. "This pickup now has the power to pull any type of trailer - stock, flatbed or grain - so we can use it for most any hauling job. The diesel engine will outlast any gas engine. I expect it to wear out 2 pickups, even if we put 200,000 miles on each rig. And we now get 20 to 22 miles per gallon.
"There's also less maintenance with a diesel. There are no spark plugs, points, or timing to worry about, and only fuel and oil filters to change. I can get engine parts and service at any Deere dealership, agricultural or industrial. What's more, Deere warranties the exterior of their diesel engines for a full year and the interior for two years, compared to a 6 month General Motors warranty."
The diesel engine weighs about 700 lbs. more than the original gas engine. "The extra weight gives the pickup much more traction," says Rotering. "It also helps to counterbalance the fifth wheel trailer's load."
Rotering, who raises beef, dairy, hogs and horses, mainly uses the modified pickup to pull a 24-ft. fifth wheel livestock trailer. "Pulling up to 26,000 lb. loads, the pickup got poor mileage of 6 1/2 to 7 mph," ex-plains Rotering. "It was losing a lot of power through the automatic transmission, so I decided to substitute a 5-speed trans-mission at the same time."
Rotering believes manufacturers of 1-ton pickups should offer bigger diesel engines. "The biggest General Motors diesel you can buy in a factory-equipped pickup is an 8-cylinder 6.2 liter model. Ford's biggest model is a 6.9 liter V-8. Those engines may handle a 1-ton pickup's bed load, but they won't adequately pull a loaded 24-ft. trailer."
Mondovi Implement Co., a local Deere dealer, spent 3 months installing the new engine. "In order for the engine to fit, we had to make numerous modifications," says Mike Slater, service manager, who notes that from the outside, the only noticeable difference is an oversized 4-in. exhaust pipe that replaces the muffler. "With a turbo-charger, you don't really need a muffler."
Open the hood and the custom work becomes obvious. There was only 30 in. clearance from the engine mounting brackets to the top of the engine. So, to make the turbocharger and intercooler fit under the hood, Slater had to make a special adapter manifold. He installed 3-in. blocks in the front end to get added height for axle clearance and the oil pan. He also installed a different clutch and pedal.
A special flywheel adapter, made by a Nebraska company, allows the transmission to stand up to the extra power. Slater remounted a remote transfer case in the center of the truck, installing a short drive shaft between it and the transmission. He had to remake all the brackets holding the air conditioner and power steering pump. He added a vacuum pump to the engine to power the 5th wheel trailer's vacuum brakes. He also added a heater and air conditioning controls.
On the pickup's rear end, he changed the differential's ring, carrier gears and pinions to compensate for the diesel's lower rpms. "When you're hauling heavy loads, you're more interested in power than speed so you want to keep the gear ratio low," says Slater.
The job would have been more difficult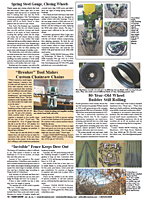 Click here to download page story appeared in.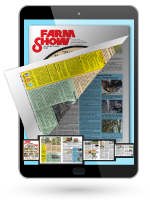 Click here to read entire issue
To read the rest of this story, download this issue below or click
here
to register with your account number.