Camels For Brush Control
Camels might be the best answer yet to brush control on pastures, according to William Koester, manager of the Hudson Ranch near Manhattan, Kansas.
Koester has imported 18 young camels from the wilds of Australia and turned them loose on open ranch land to feed on the brush that could otherwise take over pasture land. "Camels prefer brush over grass. Their diet consists of 80% brush and 20% grass," says Koester.
Camels have already proven to Koester and ranch owner A.B. Hudson that they will clean up undesirable woody plants. Hudson has had 12 camels on a ranch he owns in Missouri for some time and recently bought 6 more camels for his ranch in Kansas to control mesquite, buckbrush, sumac, trees and other woody plants.
Koester and Hudson first found out about the possibility of using camels to control brush in an article in the Wall Street Journal. "The USDA was funding research with camels in Las Crucis, N.M., so I contacted the professor in charge of the project and picked his brain about how the camels were eating mesquite and other wood species in their pastures."
The professor put Koester in touch with an exotic animal dealer from Indiana who had just imported a 747 jet full of camels from Australia. "The camels were in quarantine in New York so I worked out a deal with him and ended up buying seven camels in that first purchase for the ranch in Missouri. Before long the camels were making a noticeable difference in the condition of the pastures so we went back to buy five more," says Koester.
The six camels most recently purchased for the Kansas ranch are 2-year-olds and weigh about 800 lbs. each. There are five cows and a bull in the group and they cost about the same as a good cow or bull.
"They're trapped out of the wild, so the main cost is the importing and quarantine fees," says Koester.
The camels were in quarantine for 30 days and tested seven times for all possible diseases. "They're completely healthy. You can tell by looking," says Koester.
While their native land is thousands of miles overseas, camels adapt well to the midwest, according to Koester. "We have a shed for them to come into at the Missouri ranch and they come in every night and then go back out to graze in the morning. The only thing that seems to bother the camels is the rain. They usually won't go out when it rains."
"Camels are very calm and they domesticate easily. I had them eating out of my hand 24 hrs. after they arrived at the ranch," says Koester noting that the camels only become mean if they're mistreated. They are compatible with horses and cattle.
Koester says the camels clear pastures of all woody brush and strip leaves from tree branches up to 10 to 12 ft. for better grass growth in timber and cattle loafing areas. A camel will eat 20 to 40% more feed than a same-size cow.
Although he says he still has a lotto learn about camels, Koester says the main thing to look for when selecting a camel is a hump that's straight and well filled. "The hump is where camels store fat and moisture. If it's off to one side, the camel is in poor condition," explains Koester. "They are not receptive to any diseases that I know of and I plan to deworm them with a regular cattle wormer."
Camels continue to grow until they're 6 years old and can weigh up to a ton. They live to age 40.
Story and photo reprinted from GRASS & GRAIN, Manhattan, Kan.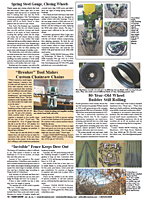 Click here to download page story appeared in.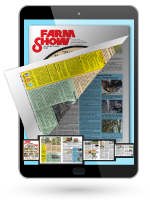 Click here to read entire issue
To read the rest of this story, download this issue below or click
here
to register with your account number.