Trained Buffalo Wins Races Against Horses
Like many cowboys, T.C. Thorstenson, Rozet, Wy., likes to compete in races and rodeos in his spare time. However, instead of a horse, Thorstenson rides "Harvey Wallbanger", a 2,000 lb. buffalo that out-races and out-performs most horses.
Thorstenson and "Harvey Wallbanger" have appeared in races from Canada to Mexico and have won 20 of 25 races against horses. The 8-year-old buffalo is named after his father, who had a habit of crashing through walls.
Thorstenson, a rancher who broke horses fora living for 10 years, spends about a third of his time on the road with Harvey. "There are two or three other trained buffalo in North America, but Harvey is the only one that races competitively," says Thorstenson. "Most people have never seen a buffalo. About half of them come just to see a buffalo. The other half come to see Harvey win."
Thorstenson also owns a 2-year-old, 1,200 lb. buffalo named "Speedy Gambler", which he has trained to perform such tricks as bowing, playing dead, and allowing Harvey to stand on its back. "Speedy" entertains the crowds before Harvey races.
Thorstenson and Harvey race a maximum of 110 yards. "Most horses get nervous when they see the buffalo because of its quick movements and unusual sounds, so Harvey usually runs on the rail," says Thorstenson. "I use a bareback saddle pad with my feet alongside Harvey's back. There are no stirrups because Harvey is so big he fills the starting gate. Harvey gets a quicker start from a take-off than most horses. It's a lot different riding a buffalo because the saddle sits one to two feet farther back than it does on a horse due to the buffalo's big shoulders. Balance is the key to staying on top. I wear tennis shoe boots with cowboy boot tops so my heels won't dig into his back."
Thorstenson began raising Harvey in June, 1980, when he was a two-day old, 35-lb. orphan. Harvey's mother had been shot by a poacher. At the time, Thorstenson was working on a road gang for the Milwaukee Railroad. The baby buffalo required bottle feeding, so Thorstenson carried Harvey back and forth with him to work in his car for six months until he weighed 260 lbs. During this time, Harvey became used to life on the road.
Thorstenson began racing Harvey in 1985 when the racing staff at Energy Downs in Gillette, Wy., heard about Harvey and invited Thorstenson to race Harvey against a quarter horse. To make the horse less nervous, Thorstenson hauled in a couple of his own quarter horses to run against Harvey. Harvey won the race and his career has blossomed ever since.
According to Thorstenson, buffalo live to be 60 years old - twice as long as a horse. They can't be raced until they're 6 years old and aren't mature until they're 10 years old.
Thorstenson doesn't recommend buffalo racing for the average person. "A buffalo's wild instincts make it difficult to break, and not all of them are trainable. Even Harvey may never be completely trustworthy. Buffalo are strong enough to flip a horse off the ground and kill it with their sharp horns. I could have trained 40 good horses during the time I spent training Harvey."
Thorstenson and Harvey will appear in several races and rodeos around the country this year. Contact Thorstenson for a full listing of race and rodeo dates.
For more information, contact: FARM SHOW Followup, T.C. Thorstenson, Buffalo Flats Ranch, Box 94, Rozet, Wy. 82727 (ph 307 682-9574).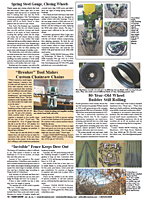 Click here to download page story appeared in.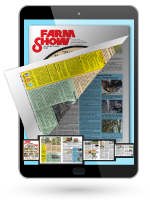 Click here to read entire issue
To read the rest of this story, download this issue below or click
here
to register with your account number.