Blacksmither Makes Field Calls
A Texas farmer turned blacksmith who specializes in sharpening disc blades has developed a thriving business making "field calls", eliminating the need for farmers to transport big equipment.
Preston Byers, age 67, combined mobility, specialized equipment and the keen eye of a farmer to hone out a skill that was once relegated to the confines of a blacksmith shop.
"My son, James, and I have been doing this off and on for about 9 years," he explained while working on a 64-blade disc slung low behind a huge Deere tractor. Byers got into the business when he and his son bought out an existing business.
The two men depend on steady customers for business. "A man who works a lot of ground might have me out twice a season. Just depends on how often you run the. equipment, and how much ground you cover."
Preston prefers to have the plow sitting on firm, level ground when he comes to sharpen. Then the height of the disc has to be adjusted with the tractor's hydraulics, or a step-jack. Once the height is just right, Preston starts the 5-hp. engine that powers the sharpener, gets the right angle on the blade, and levers it forward so the two round knife-files up front make contact with the blade.
"It takes a while to get an eye for this," says Preston. "You learn what to look for, and how to feel the edge as it comes on."
Preston works on all makes of discs. Front gangs take longer than rear gangs because the tongue and hydraulic hoses up front get in the way. "You have to know that the implement is set and won't move once you get up under there. I always have someone with me just in case I get in a bind and might need help. But this sure beats taking each blade off and carrying it to a blacksmith or machine shop."
On really big jobs, Preston and James work as a team. They have two portable roller-sharpeners and the work goes quickly when conditions are right. A gang of disc blades costs about $2.25 per blade. Sharp discs can mean savings on fuel, says Preston. A dull disc is harder to pull.
"A disc is like a pocketknife. If it's dull, you have to scrape and scrape to get it done. A sharp blade is a pleasure to work with and you can always count on it as long as the edge is there."
Reprinted with permission from County World, Sulphur Springs, Texas.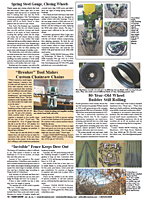 Click here to download page story appeared in.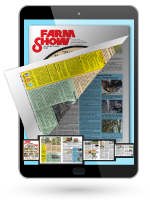 Click here to read entire issue
To read the rest of this story, download this issue below or click
here
to register with your account number.