German-Built Truck-Tractor
Two and a half years ago Nebraska farmer Kelvin Kurkowski bought a used 4-WD "Unimog" from a Colorado city's street maintenance department. He liked it so well that a year later he bought another one and also decided to become a dealer. So far he has sold five Unimogs to area farmers. The Unimog is a true high-speed tractor made in Germany by Mercedes Benz. It has unique high speed truck-like capabilities.
"It's the most versatile tractor in the world and has a great future in North America, especially for diversified farming," says Kurkowski, who has the first new agricultural Unimog ever shipped to the U.S.
The Unimog is equipped with front and rear 3-pt., front and rear 540 and 1,000 rpm pto, front and rear remote hydraulic outlets, a rear drawbar hitch, and a cargo platform that doubles as a 3-way dump bed. It has oscillating axles and Michelin lugged tires (available from 40 to 48 in. high). Power is supplied by a Mercedes Benz 6-liter direct-injected turbocharged diesel engine and a 24-speed transmission. Models equipped with a standard gear ratio can travel at speeds up to 60 mph.
Sizes range from 100 to 240 hp. Numerous attachments, including cranes, trenchers, blades, side-mount boom mowers, etc., are available.
"Unimogs are built tough enough to pull heavy tillage implements, yet they're compact and maneuverable and have the ride, comfort, and speed of a fine automobile with extreme longevity," says Kurkowski, who owns a 125 hp model U1200 and a 156 hp model U1600. "They're more efficient than tractors or trucks alone and are so versatile that I was able to sell two Case-IH 160 hp tractors. Unimogs cost about 20 percent more than a new conventional tractor with comparable horsepower, but the extra cost is worth it because they can do much more and replace a lot of equipment. They're equipped with a 3-person cab but are still legally classified as an agriculture tractor with the obvious legal benefits.
"I use mine to pull a 40-ft. grain drill, forage harvester, 22-ft. offset disk, 60-ft. spring tooth harrow, and 28-ft. field finisher. I also use the tractors to pull a round baler, hydra-swing swather, and 600 bu. grain cart with a 600 bu. pup trailer behind it. In addition, I pull a 90-ft. sprayer with dual 1,300-gal. tanks, or I can mount a 400 to 700-gal. sprayer equipped with 90-ft. folding booms in order to top dress wheat or spray herbicides. Unimogs also make great loader tractors. I mounted a loader on my smaller model and use it to push silage into a bunker silo. My tractors are equipped with low ratio rear ends for field work. I can go as slow as .04 mph or as fast as 55 mph so I can drive to town at highway speeds.
"Unimogs have been sold throughout the world for more than 50 years and are widely used as farm tractors. The first question many farmers have when they see a Unimog is, æIs this a true heavy duty tillage tractor?'. After two years of experience I can answer with a definite æyes'. It has a heavy duty sus-pension system and oscillating axles with outboard final drives that keep the ground pressure on all four tires equal at all times for maximum traction. It's unbelievable how much tractive effort it has for its weight.
"Because it's so compact, it also makes a great loader tractor. One Colorado farmer who does custom hay grinding uses his Unimog to pull an engine-driven stationary hay grinder on a trailer to different farms. He uses the Unimog to load 1-ton big square bales into the grinder. He had been using a 3-ton truck to pull the grinder and a bi-directional tractor to load bales into it. After he bought the Unimog he was able to sell the truck and tractor, as well as a 1-ton Du-ally pickup. He also eliminated the need for a hired man.
"We use the side-tilt cargo platform to carry fuel tanks for other vehicles. If we're on a sidehill and the tank is low on one side, we can raise the platform a few inches in order to get the last 20 gallons or so of fuel out of the tank. It also works great for filling in center pivot tracks in fields too muddy for a conventional loader tractor. We can d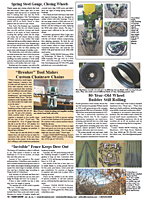 Click here to download page story appeared in.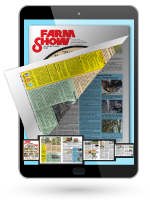 Click here to read entire issue
To read the rest of this story, download this issue below or click
here
to register with your account number.