Portable Hay Shelter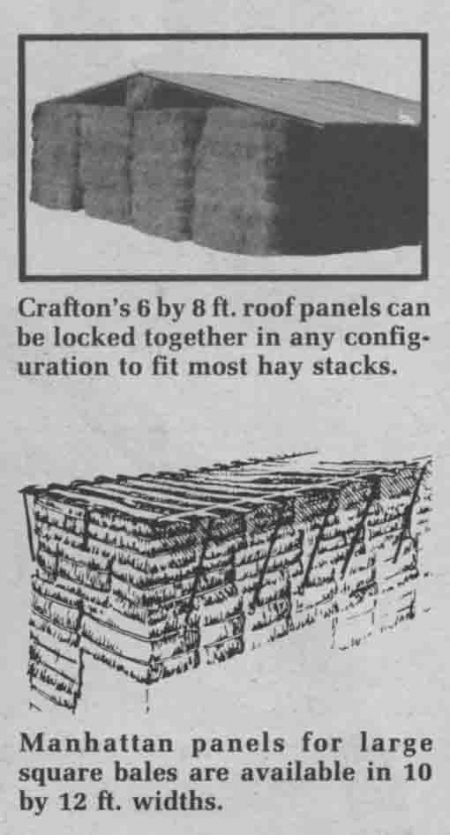 "They're as good as permanent hay sheds but you don't pay property taxes on them," says Wallace D. Crafton, Stanfield, Ore., developer of new portable hay covers that lock together in long panels to give protection to any size hay stack.
The 6 by 8-ft. panels are built from steel tubing and galvanized sheet metal. They lock together with spring clips and are tied to the hay with four aircraft cables that are attached to 16-in. long anchoring pins. Each panel weighs 85 lbs., light enough to be handled by one man.
"It's less expensive than a hay shed and does a better job than plastic. When plastic tears, water pours into the stack through the hole. That can't happen with these panels. Also, because they're temporary, farmers can claim an investment credit and take depreciation on them. If for some reason the following year you decide to move your hay stack, you can do it."
The panels can be locked together in any configuration to fit any hay stack and be reused indefinitely. Two larger size panels 6 by 10 ft. and 8 by 10 ft., are also available.
A Montana manufacturer also produces temporary hay storage panels. Ken Ytma, Manhattan, sells a panel specifically designed for stacks made with large square bales. Available in 10 and 12-ft. widths, the panels fit both straight stacks of large bales and 2-wide or 3-wide criss-crossing "harrowbed" stacks.