Spray Nozzle Cleaner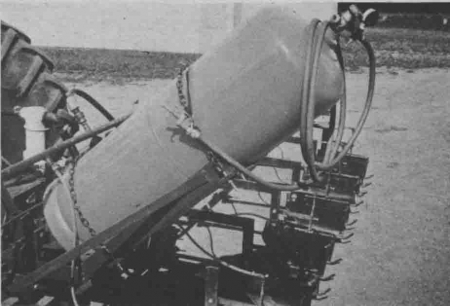 The desire for a safe, fast and easy way to clean plugged spray nozzles led Murdock, Minn., farmer Harold Peterson to build a nozzle cleaner for his sprayer. His idea, a "Sugarbeet Growers Idea Contest" winner, features an old LP gas tank with a 250 psi rating used as an air supply tank. Other parts included pipe fittings, a pressure gauge, hose long enough to reach each, end of the sprayer, and a valve stem used to fill the tank with an air compressor.
Peterson mounted the tank on an angle iron frame mounted on his sprayer. The tank is secured to the frame with chains and can be easily removed for other uses. No pre-cleaning of the tank was required.
Peterson reports that the high pressure air supply speeds nozzle and screen cleaning, and helps save money by ensuring proper chemical application and eliminating nozzle damage caused by using a knife or wire to unplug clogged nozzles.