Old Barn Cleaner Makes Great Ski-Tow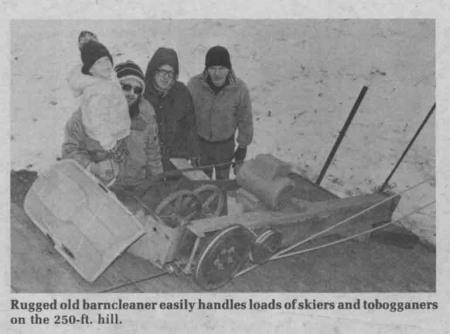 What do you get when you combind a great hill for skiing and tobogganing with an old barn cleaner lying in a junkyard? A Minnesota farmer ended up with a great recreational sport for family and friends.
Good Thunder farmer Wayne Knewtson, friend Henry Quade and a group of other friends built a leg-saving ski tow for the hill using the gear box from a 1950's Jamesway shuttle-stroke barn cleaner that Knewtson found in a junk-pile.
He and his friends used the gears but not the shuttle stroke action of the barn cleaner, reducing the gear ratio to about 45 to 1 so it moves the rope at the pace of a slow walk. Powered by a 2-hp electric motor, a pulley from a Deere combine puts pressure on the 5/8-in. polypropylene rope. At the bottom of the hill, a simple barn rope pulley is tied with cable to a tree.
Now, when anyone wants to toboggan, they just clip the sled to a clamp on the tow rope and up the 250-ft. hill they go. Skiers hold onto the rope just like a regular rope tow.