---
Check out our FREE Classified Ad sites!
Portable A-Frame Lifter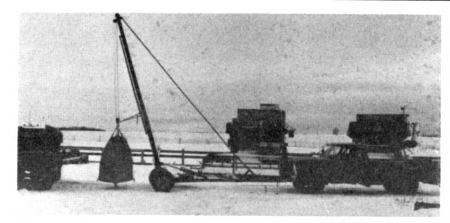 "It's one of the handiest pieces of equipment I've ever built for use around the farm," says Larry Empey, Alberta, Can., of his A-frame lifter. It hitches to the front or back of his pickup for "go anywhere" lifting and loading of big bales, logs, bulk fertilizer bags, and anything else that needs to be lifted, loaded or stacked.
The "sky hook" stands slightly over 20 ft. high. Empey recommends using an 8,000 lb. battery-powered winch to do the lifting. The driver can raise or lower the winch "on the go" right from the cab of the truck as the load is being pushed, or pulled. Although the lift can be pulled, it's much easier to control and maneuver if hooked to the front of the vehicle, says Empey. It folds down hydraulically for down-the-road transport at road speed.
The lifter is made of square steel tubing 1/4 by 4 by 4 in. in the main frame, and 1/8 by 4 by 4 in. in the boom.